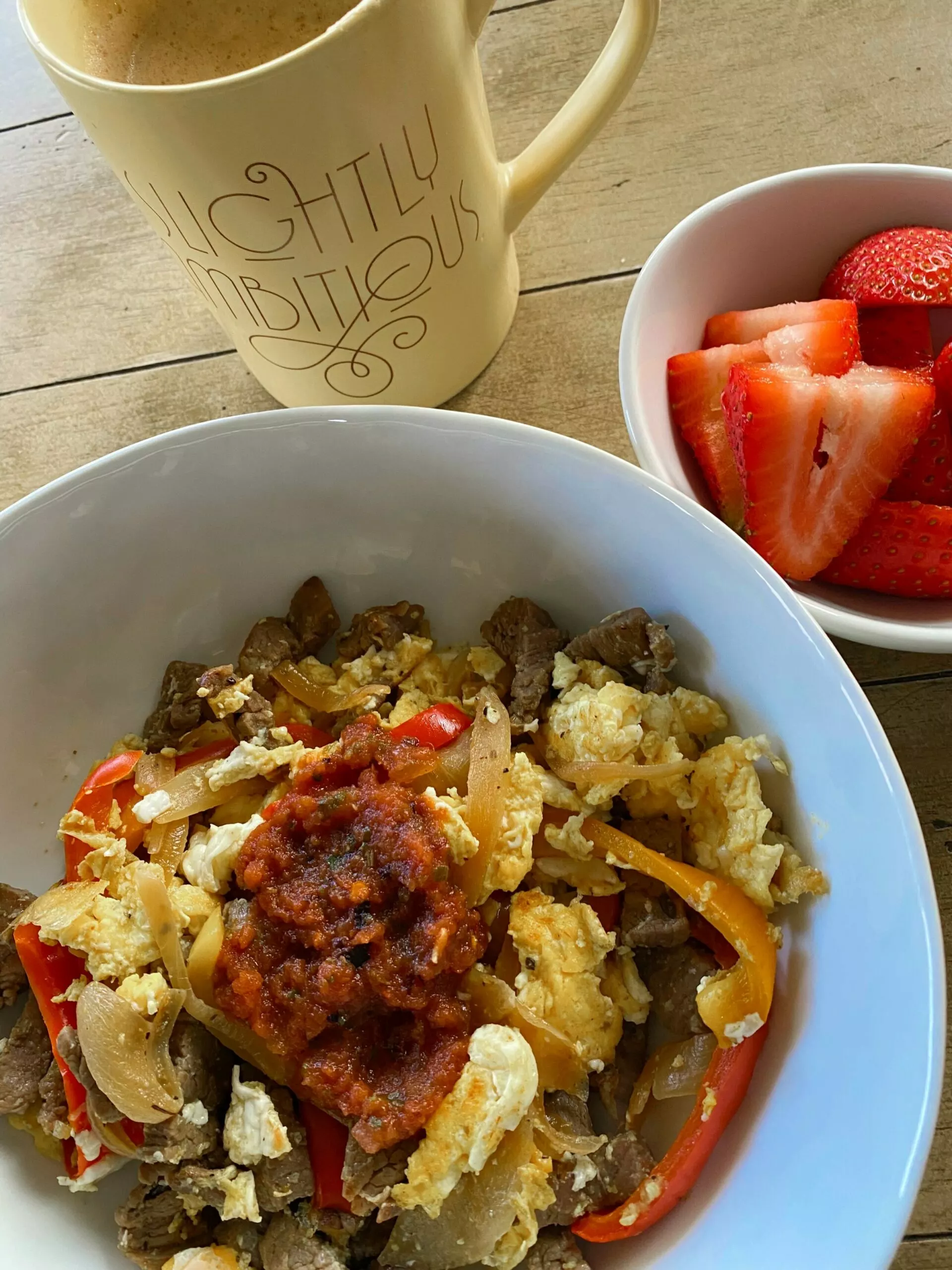 Hi friends! How's the week going so fa? I'm so happy ya'll enjoyed the home office post. I'm super happy with my walking pad and am on it while I write up this blog post.
For today's post, I thought I'd do another round of eats from start to finish especially since I've really been working on emphasizing protein and fiber lately. (I got away from it for a while but am back to tracking and notice a difference in how I feel + my performance at the gym.)
Here's a full day of eats and adventures from start to finish!
As always, keep in mind that while this is a day of eats for ME, it may look nothing like how you like to fuel yourself, your specific needs/preferences, and if it would align with your goals. This is why it can be helpful to work with a coach to help you determine habits and methods that support your lifestyle, unique needs, and preferences. Just sharing this to hopefully share some new meal ideas and what 100+ grams of protein looks like in a day.  
6:30am I wake up and do some grounding without my glasses while I take Maisey outside. I make some Athletic Greens and take it upstairs to drink while I wake up the crew, get dressed, and then head downstairs to pack up lunches, snacks and waters. I break off half an Aloha bar and eat it while I'm driving.
9:30 I'm back from school drop-off and an F45 class (hybrid day) and make breakfast. 2 eggs, 4 oz leftover flank steak from dinner and leftover fajita veggies, strawberries, decaf coffee with almond milk and 1/2 scoop Paleovalley protein. I also have some creatine in my water.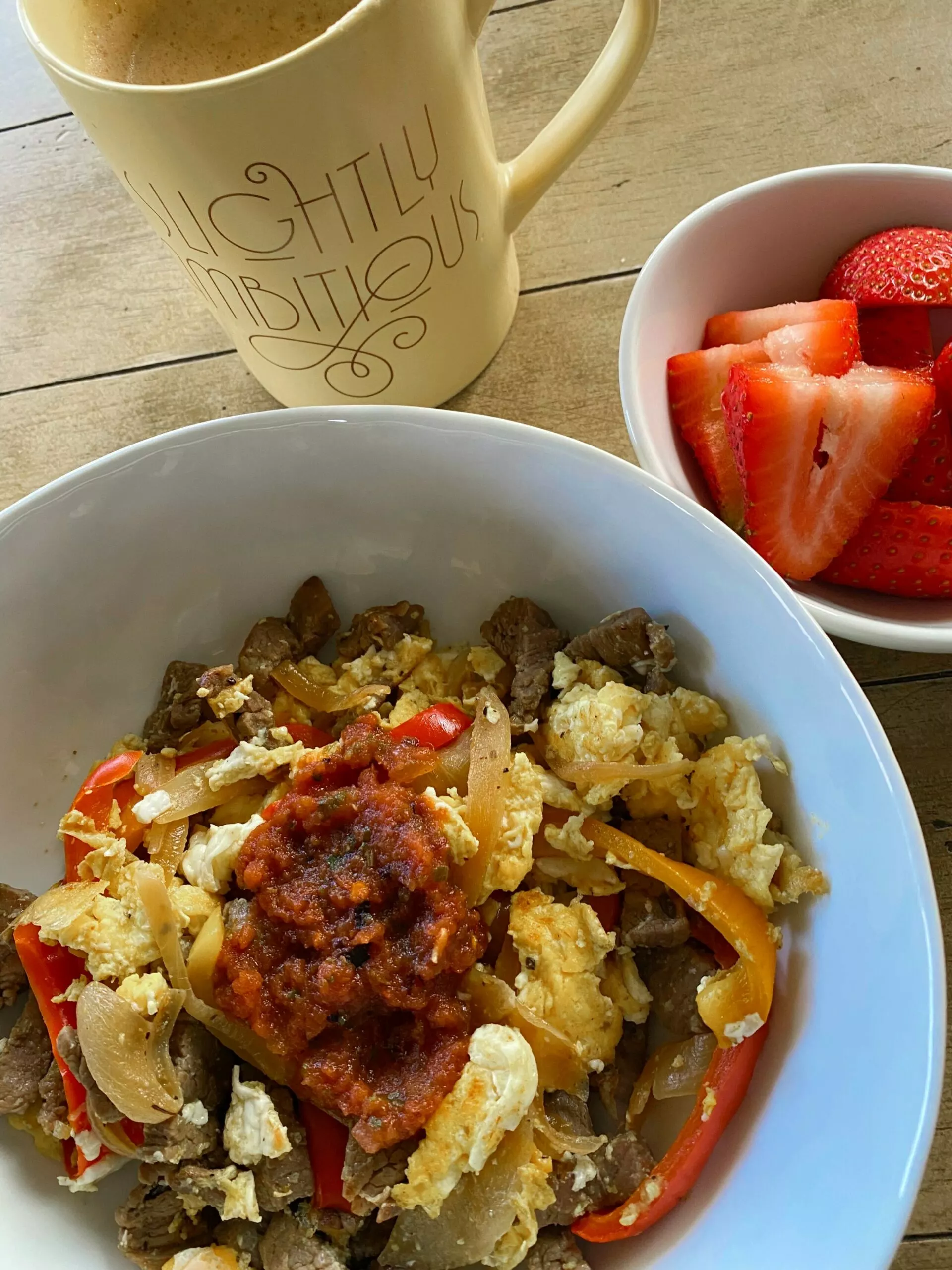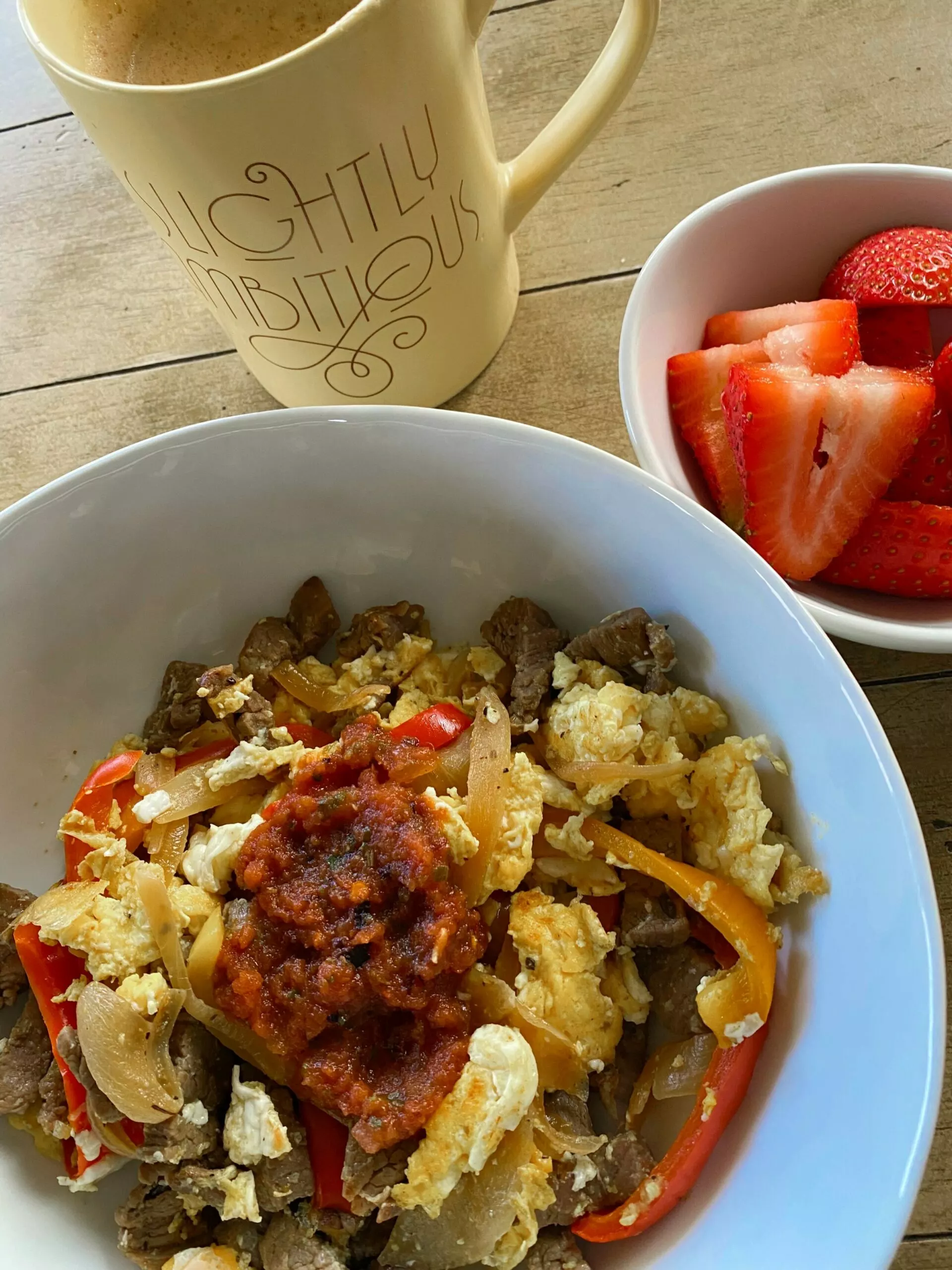 After I finish breakfast, it's work blitz time. I make graphics and add to Pinterest, post a reel, write two blog posts, answer emails, and write + send questions for an upcoming podcast interview.
Noon: lunch! I make some tuna salad with a can of Safecatch tuna, 2 tablespoons of Primal Kitchen dressing, EBTB seasoning and top it on two rice cakes with sriracha. I add a pack of Poshi asparagus (my fave for when I want a serving of veggies but haven't cooked anything) and a pack of Lupini beans. Both of these snacks are from Thrive Market – I order pretty much all of our snacks, household goodies, cleaning supplies, and pantry staples from Thrive.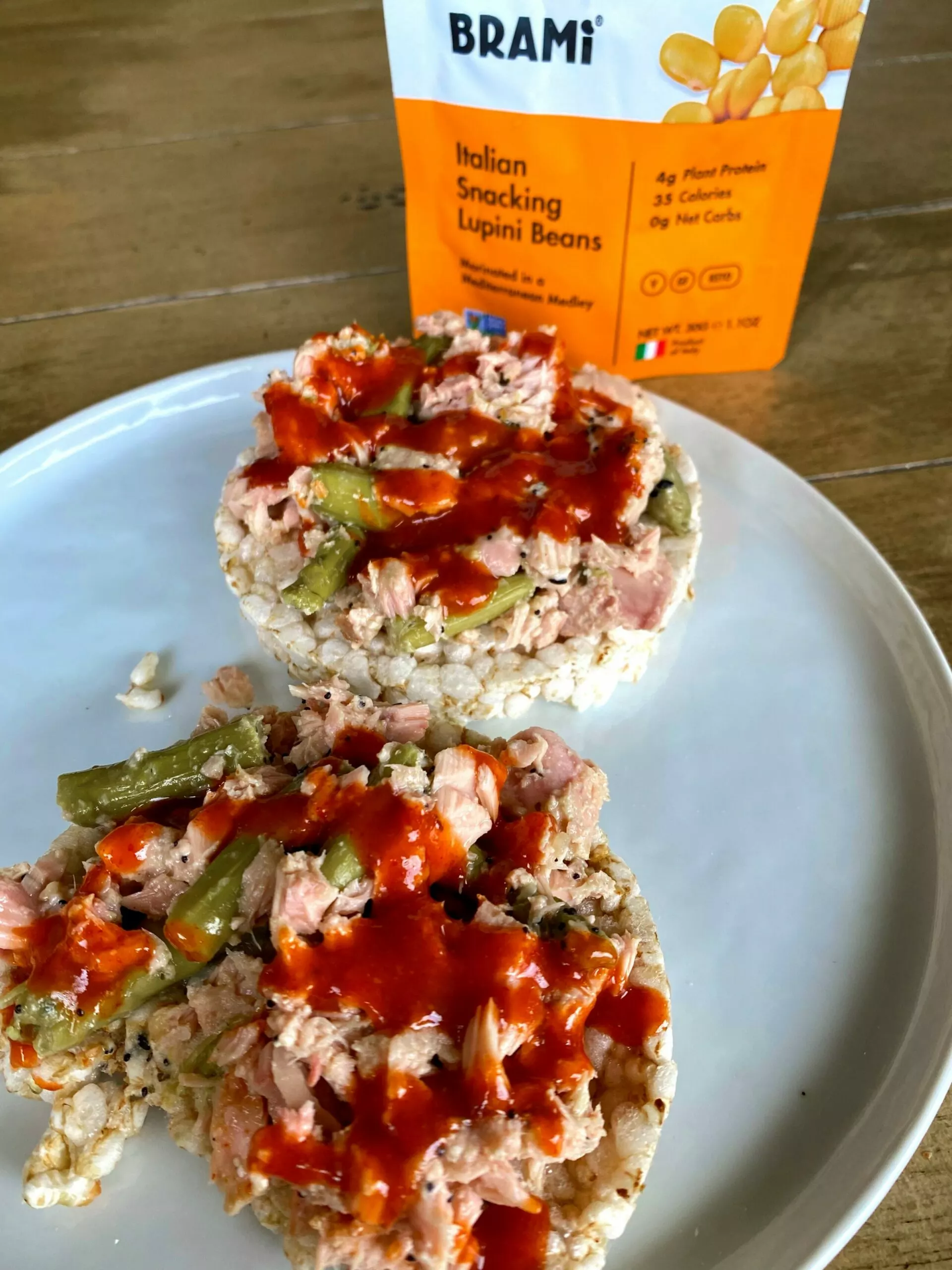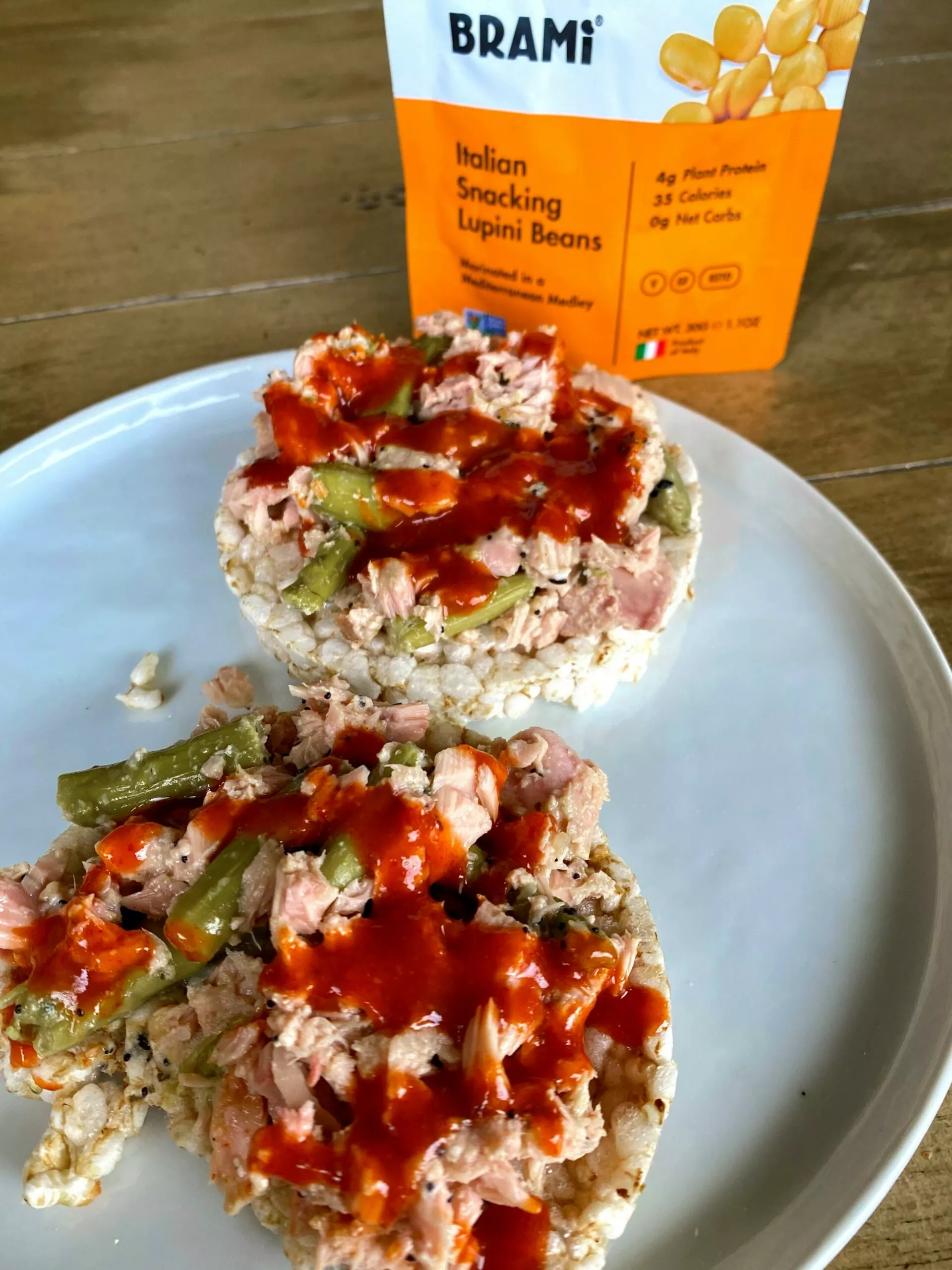 Back to work. I study for IHP – it's taking me forever but I'm learning so much and really trying to absorb everything – take Maisey for a quick walk, and then spend 45 minutes cleaning the house before picking the kids up from school. I've learned that if I don't block out at least 30 minutes to clean every day, our house goes downhill quickly. I run the laundry, wipe down countertops, vacuum, and take out the trash.
2:50pm: afternoon snack on the way to school pickup is a jerky and a giant apple, plus a cup of hot green tea
Actually got dressed 😉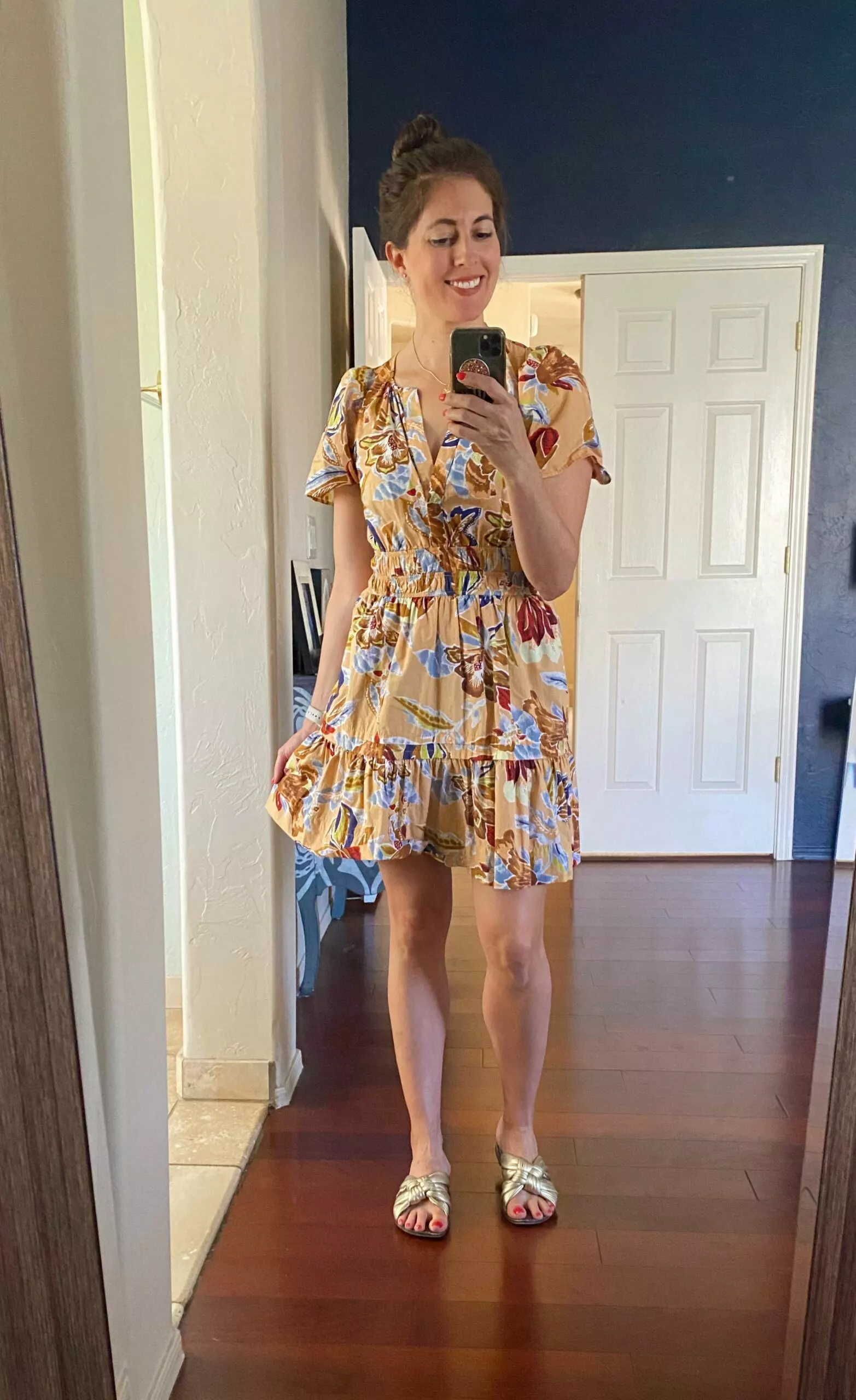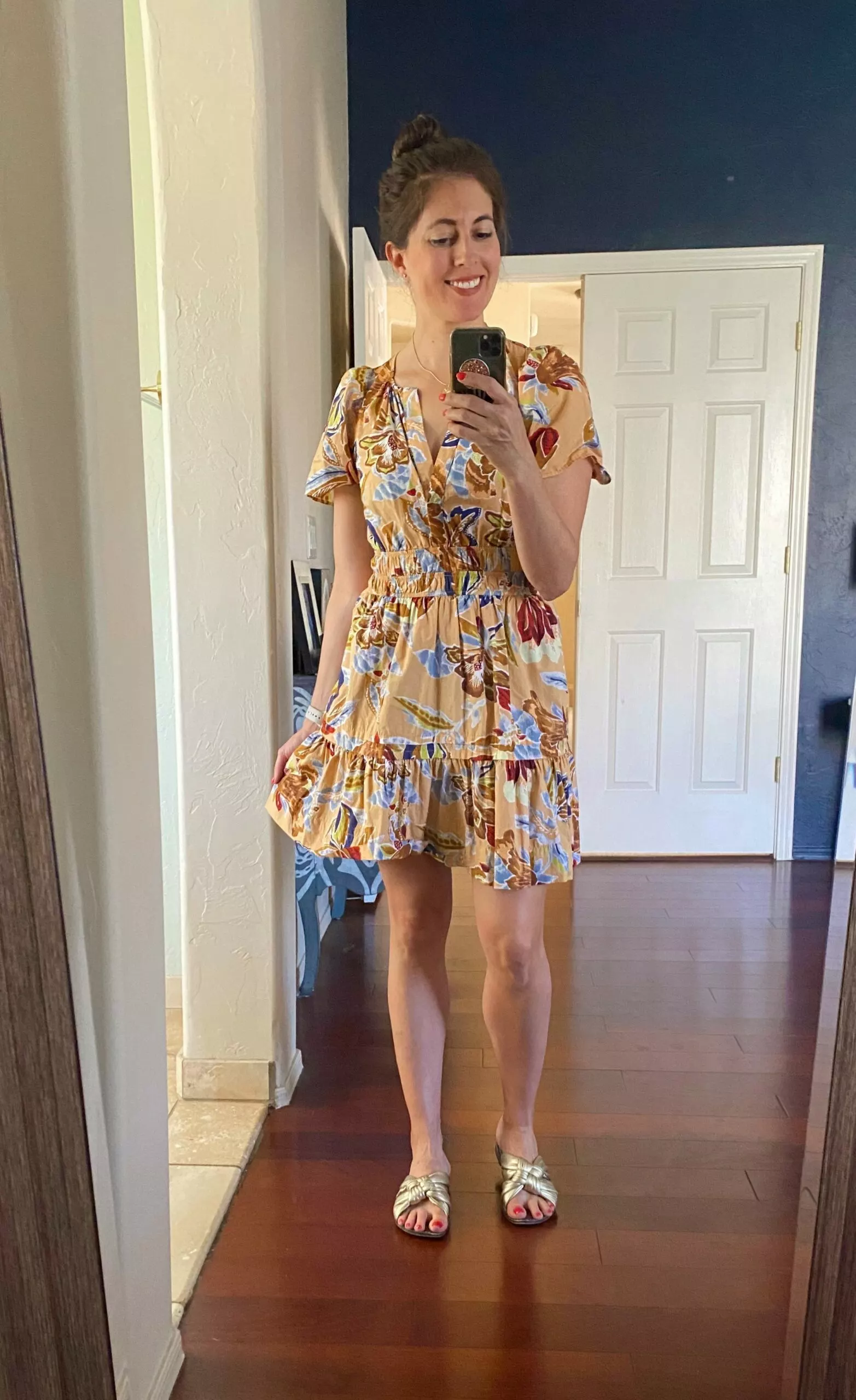 (Loving the Somerset dresses from Anthro right now. So classic and flattering)
We come home, get Liv ready for dance, drop her off, and P and I do homework while Liv is dancing. She doesn't have a ton of homework this particular day (bless it) so we have time for a quick walk and she can ride her bike around the neighborhood. We pick up Liv, and then it's dinnertime!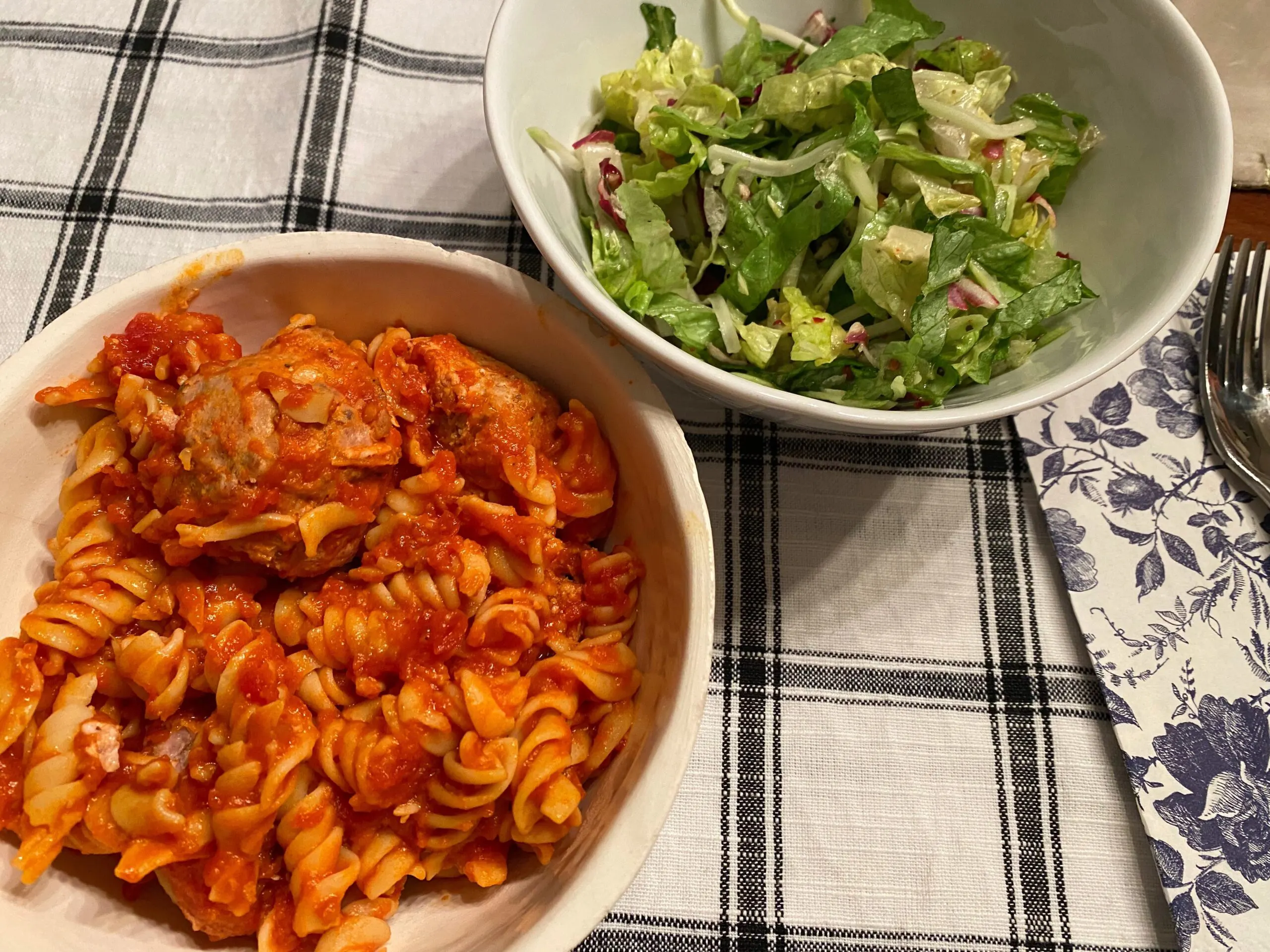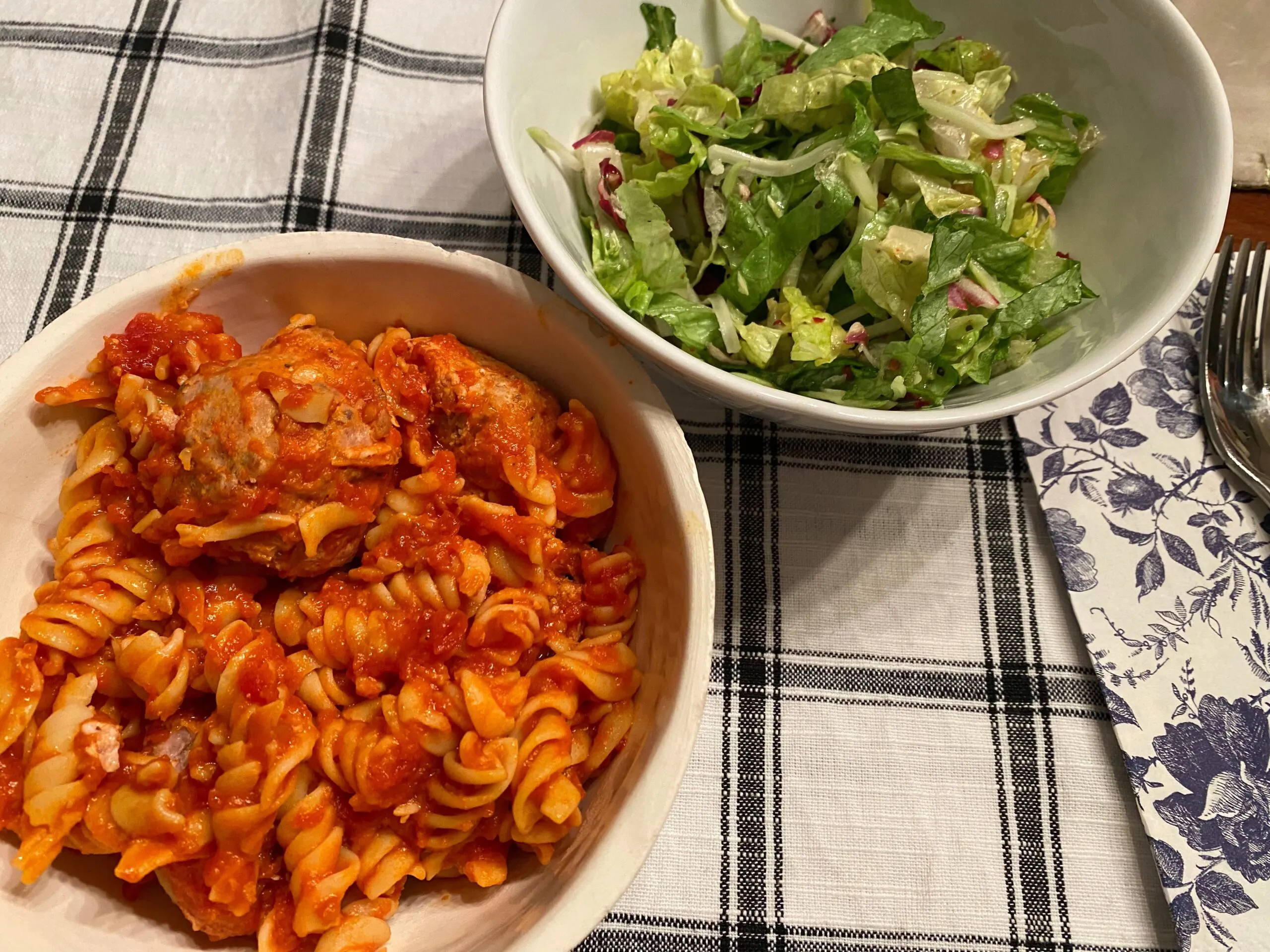 6:15 dinner. Banza pasta, turkey meatballs, parmesan, and a Mediterranean salad kit. I also heated up some sourdough from the freezer with butter for the girls. This meal was super good and satisfying, and took less than 20 minutes to put together!
For the meatballs, I mixed ground turkey with almond flour, egg, oregano, garlic powder, salt, pepper, and dried basil. I cooked them in the oven at 375 for about 16 minutes. While the turkey meatballs were cooking, I boiled the pasta noodles and made the salad kit. When the meatballs were done, I added them to the drained pasta with Rao's marinara and topped with shredded parm.
Dessert: mini coconut ice cream cone and an Egyptian licorice tea 🙂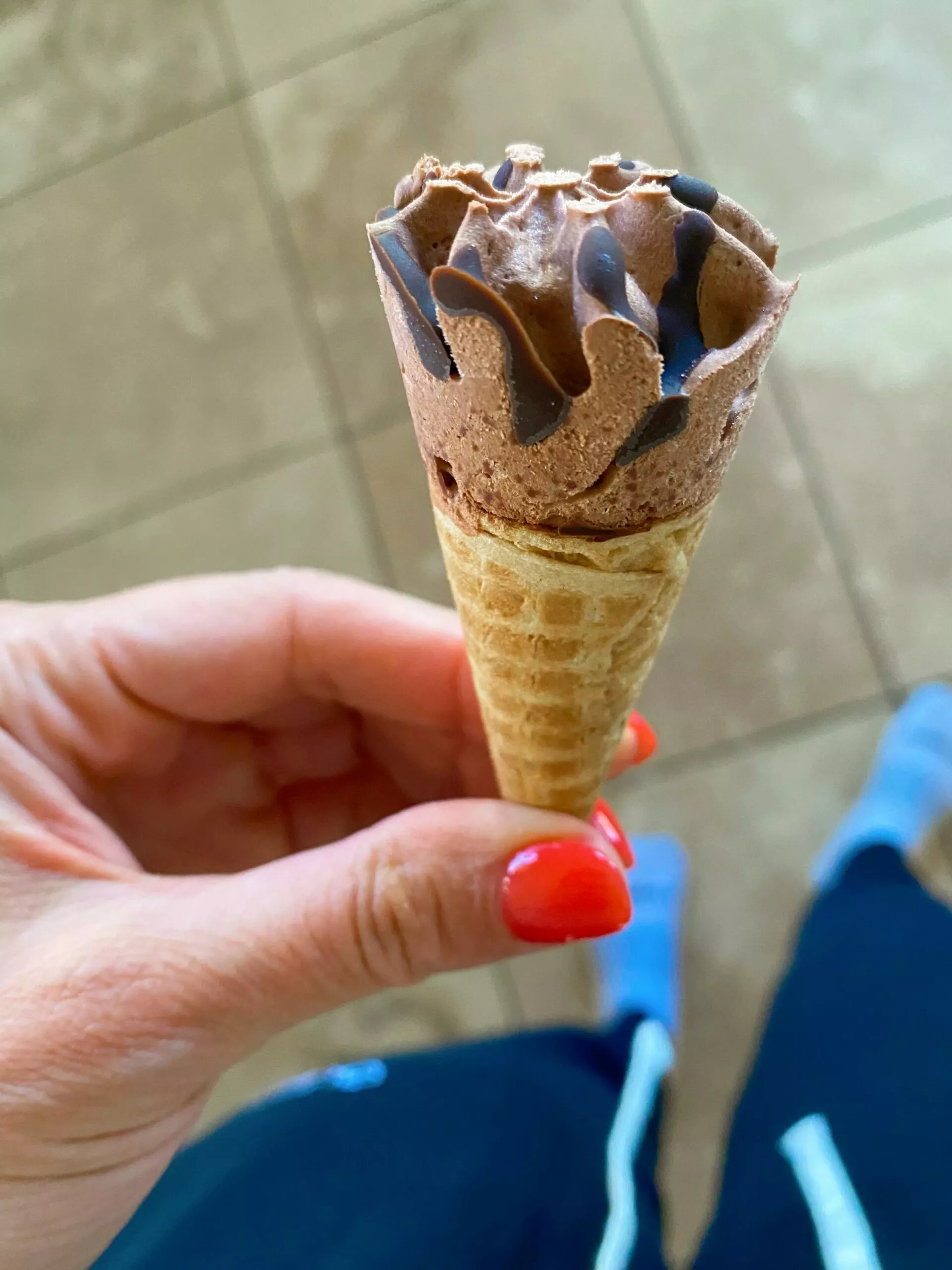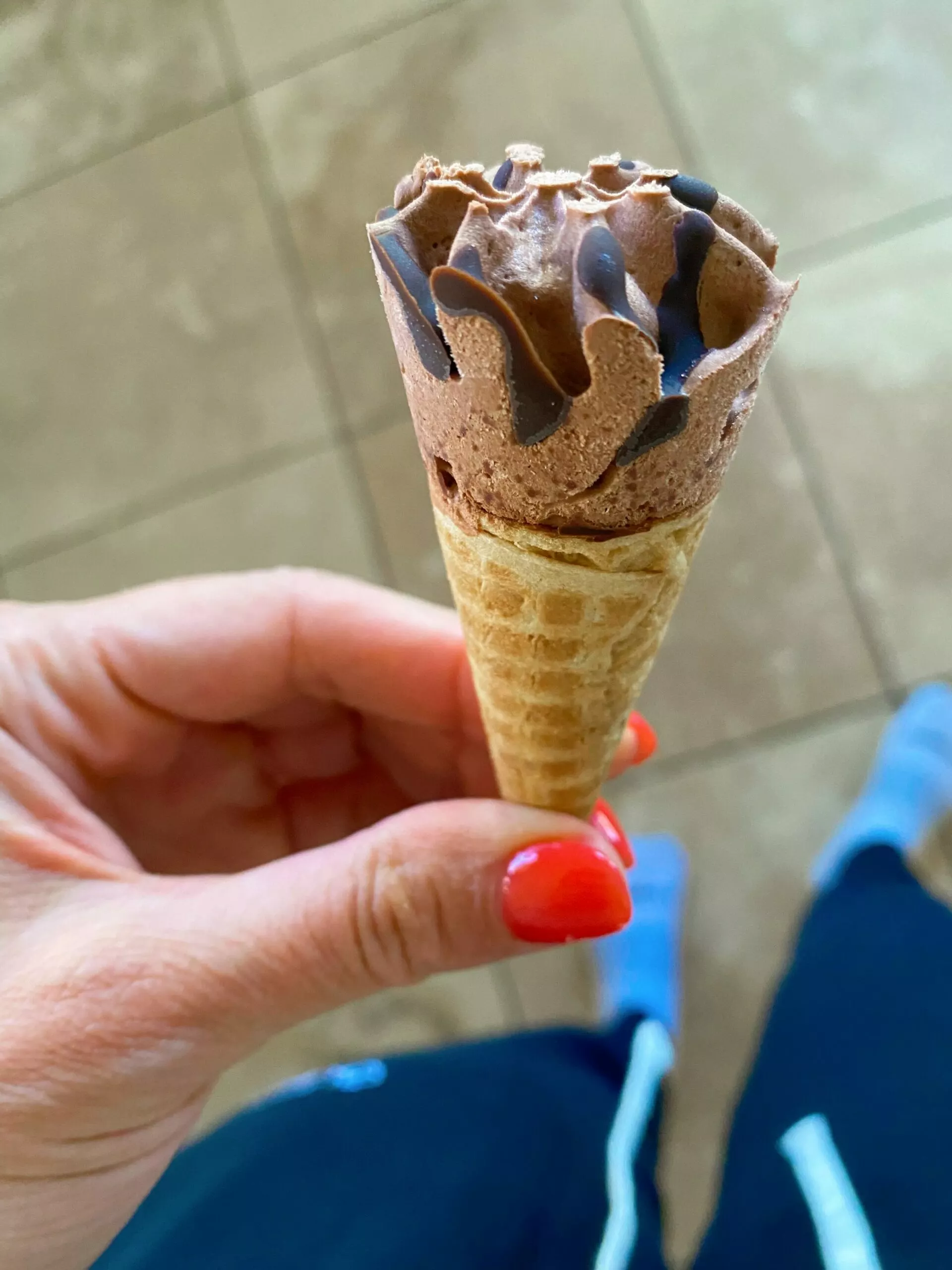 After dinner, I clean up the kitchen, make lunches and snacks, and help Liv with her homework while P plays with toys and watches a little TV. After Liv finishes homework, it's showers for both kids while I fold and put away the day's laundry mountain, blow dry their hair and help them get ready for bed.
Both kids are out by 9 and 9:30, I read in bed until 10:30 and then lights out… ready to do it all over again.
What I liked about this day of eats: I feel like I was intentional and made a point to get in a fruit or veggie with every meal, along with at least 1 palm of protein. I'm also proud of myself that we didn't get hot bar or takeout, even though the Pilot was gone on a trip. (We usually have more takeout, hodge lodge meals, or breakfast for dinner while he's away.)
I felt like I was well-fueled and had great energy, and I liked that dinner was on the earlier side. (Sometimes when we eat late due to dance or sports, I don't sleep as well.)
So tell me, friends: what are some of your favorite quick school-night dinners? I'm ALWAYS looking for new ideas, so please share the love in the comments section!
What was the best thing you ate yesterday?
xoxo
Gina