Ever wonder why eating protein is an important part of your daily nutrition? Whether you're more physically active or not, every cell in the human body contains protein. You need protein in your diet to help your body repair cells and make new ones. While protein is important for growth and development in younger people, it is equally, if not more important, for aging adults.
Older Adults Should Eat More Protein
The aging process creates stress on the body like reduced energy reserve capacity, fragile skin, decreased immune function, poorer healing of wounds, and longer recuperation from illness. Aging bodies process protein less efficiently and need more of it to maintain muscle mass, strength, bone health, and other essential physical functions.
Adequate High-Quality Protein Is Essential For Healthy Function
Most of us associate protein shakes and powders with athletes looking to build muscle. However, once you understand how critical protein intake is to your body's ability to function and heal, you'll want to make a specific plan on how to consume enough high-quality protein every day.
Here are some of the benefits of high-quality protein for older adults:
Increased energy reserves
Firmer, more resilient skin
Increased immune function
More rapidly healing wounds (protein is essential for wound healing)
Faster recuperation from illness
How Much Daily Protein Do You Need?
According to the Dietary Reference Intake report, a sedentary adult should consume 0.36 grams of protein per pound. That means the average sedentary woman should eat about 46 grams of protein per day, but what if you're building muscle? Women who strength train should aim for higher amounts of protein; in some cases, this might double their intake. For a 140-pound woman, the goal should be about 115 grams of protein per day. Muscles are made of protein! It's easy to underestimate the amount of adequate protein that's needed to reach and maintain your goals.
Some of the benefits of high-quality protein for strength training and muscle development include:
Helps you recover from a workout – give your muscles the amino acids (the building blocks of protein) necessary to repair and rebuild
Helps maintain muscle mass
Helps combat weakness and fatigue
Keeps your metabolism functioning properly
Protein Shakes Help To Reach Daily Protein Goals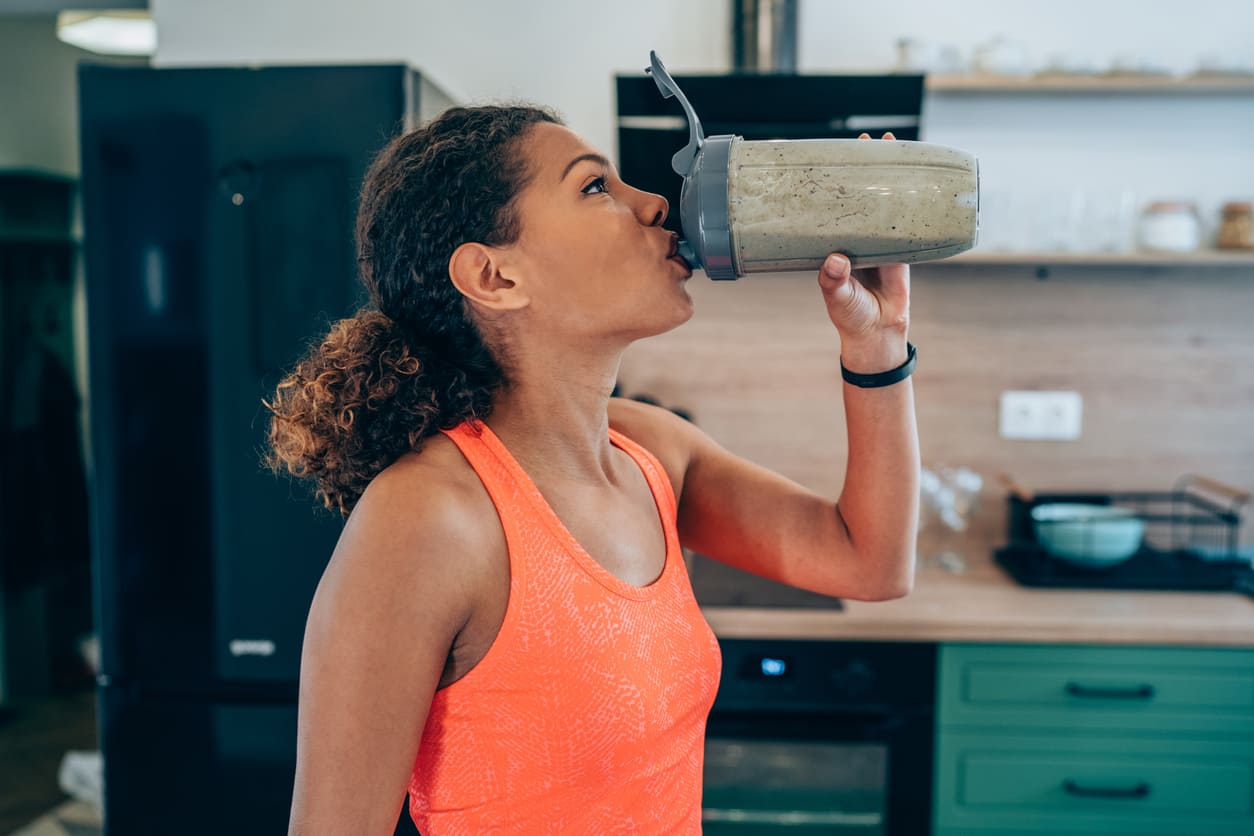 There are many foods that contain a lot of protein, like eggs, meat, milk, and beans. Various nuts can also be a good source of protein in a quick snack, but when you have either a fitness or weight loss goal, it can be difficult to stay within your daily calorie and carbohydrate goal while still getting adequate protein. Also, some days it isn't feasible to get all your required daily protein through whole foods. Protein shakes are a dietary supplement and can be used in addition to a healthy protein-rich diet to reach your daily protein requirement that will best support your personal goals. You may have tried protein powders and shakes only to find that they cause intestinal distress, which can be so uncomfortable that the benefit doesn't seem worth it.
Why Do Protein Shakes Cause Gas?
Protein supplements can be a cause of bloating and gas, and there are a variety of reasons. Some supplements that are based on whey protein or casein may contain high amounts of lactose. Some protein powders contain additives that cause gas; for example, sugars like xylitol, mannitol, and fructose can be hard on your gut. As an athlete, I have experienced the trials and tribulations of various protein powders and shakes. I don't typically have a sensitive stomach, but I've even struggled with protein powders that claim they won't cause intestinal distress. I have still been extremely uncomfortable and eventually tire from using a protein supplement altogether. It's been through this frustrating process that I have found what I believe to be the best protein powder for a sensitive stomach.
The Best Protein Powders for Sensitive Stomachs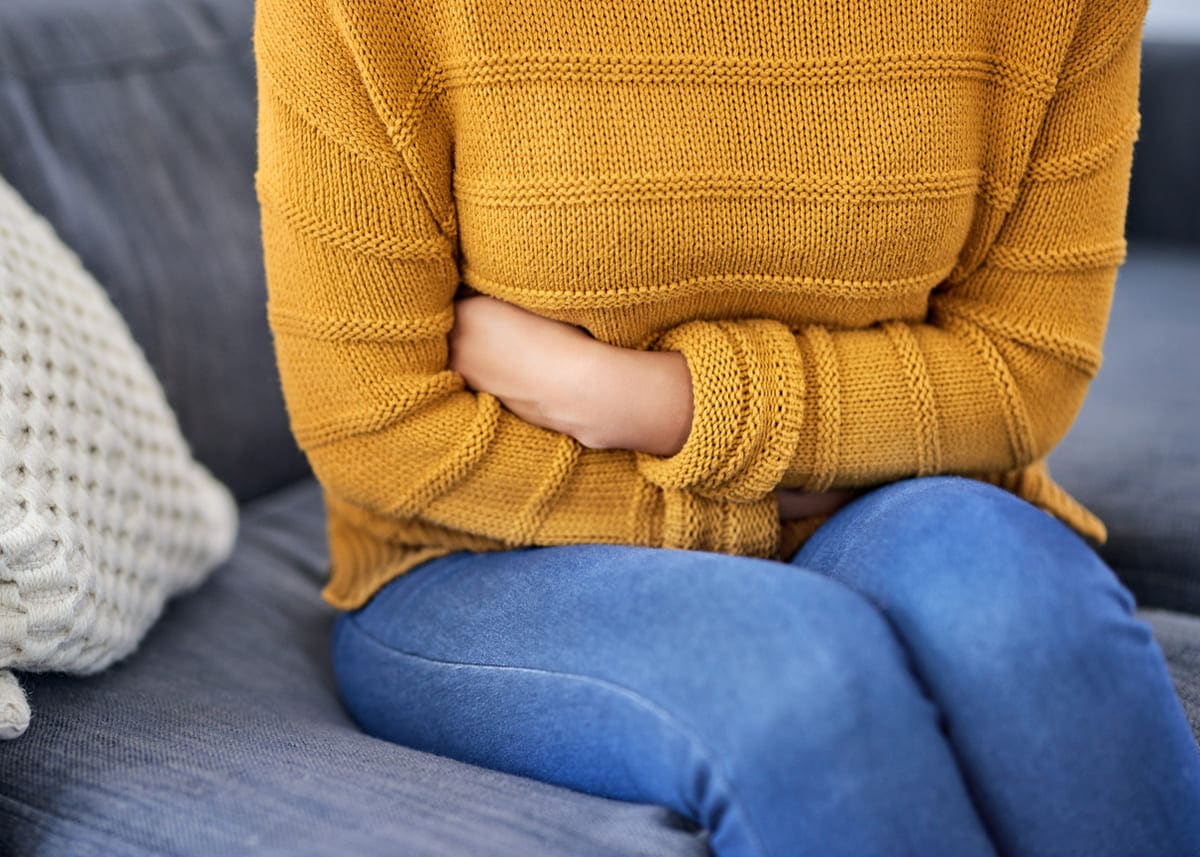 I'm going to start with my all-time favorite protein powder that I use daily, often twice a day, especially when I've had an extra hard workout. I originally stumbled across this protein when my mom was in hospice, and I was determined to find a protein/meal replacement that she could easily digest. Not only was this critical for her nutritional needs, but I discovered that I had zero intestinal distress when I started using this protein.
1. Garden of Life Raw Organic Meal
Garden of Life has over 70 protein products with various flavor profiles and ingredients, so things can get a bit confusing. The Garden of Life Raw Organic Meal is my favorite. This protein powder caught my attention because it didn't include stevia or any replacement sugar. The label says, "lightly sweet." I was intrigued because, along with the intestinal distress caused by so many other protein powders, I was never fond of the overly sweet taste of most protein shakes. As soon as tried this I was hooked! The Garden of Life Raw Organic Meal is a healthy on-the-go complete meal with 20g of protein per serving.
Benefits of Garden of Life Raw Organic Meal:
20g of protein per serving
No Stevia
Loaded with 44 superfoods
21 whole food vitamins and minerals
Easy to digest
Live probiotics and enzymes (combats gas and bloating)
Vegan
Gluten-free
Made with dairy or soy ingredients
2. Ka'chava
Ka'chava has gained HUGE popularity over the last couple of years. It is not just another protein supplement but a complete meal. It's loaded with over 85 superfoods, nutrients, and plant-based ingredients and does not include any fillers.
Benefits of Ka'chava:
24g of protein per serving
Loaded with over 85 superfoods
Made with plant-based ingredients
No fillers – no animal products, no gluten, no soy, no dairy
Comes in different flavors
3. PlantFusion Vegan Protein Powder
PlantFusion comes with a 4-star rating based on almost 9,000 Amazon reviews. It is a plant-based protein powder that includes digestive enzymes and is dairy free. The PlantFusion protein comes with no fillers and no chemicals.
Benefits of PlantFusion:
21g of protein per serving
BCAA's and glutamine for recovery and muscle energy
Digestive enzymes to combat gas and bloating
No fillers – no artificial ingredients
Dairy-free, gluten-free, soy-free
Available in a variety of flavors or natural
The Takeaway: Find What Works Best For You
Understanding how and why certain ingredients cause intestinal distress will help you determine which protein powder is best for you. For some people, both soy and whey protein are hard on sensitive stomachs. For others, plant-based proteins still cause an issue. Knowing the exact ingredients in your protein powder will help to narrow down what's causing your gut to react if you're having an issue. Through a process of elimination, you will determine which of these protein powders may be the best option for you.
Best Protein Powders for a Sensitive Stomach
Read Next:
5 Easy Steps to Make Tasty All-In-One Protein Bowls
Protein Shakes for Optimal Nutrition
How Much Protein Does a Woman 50+ Really Need?
Did you like this article? Sign up (it's free!) and we'll send you great articles like this every week. Subscribe for free here.