Fitness
Sasha DiGiulian's All-Women Team Make Historic Rayu Ascent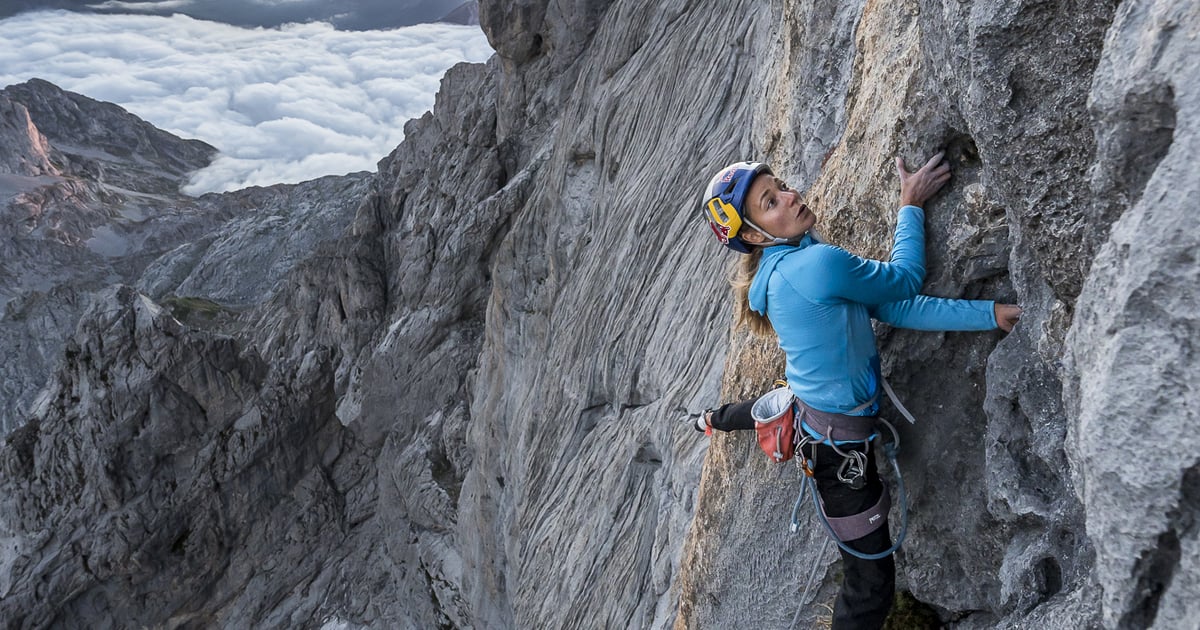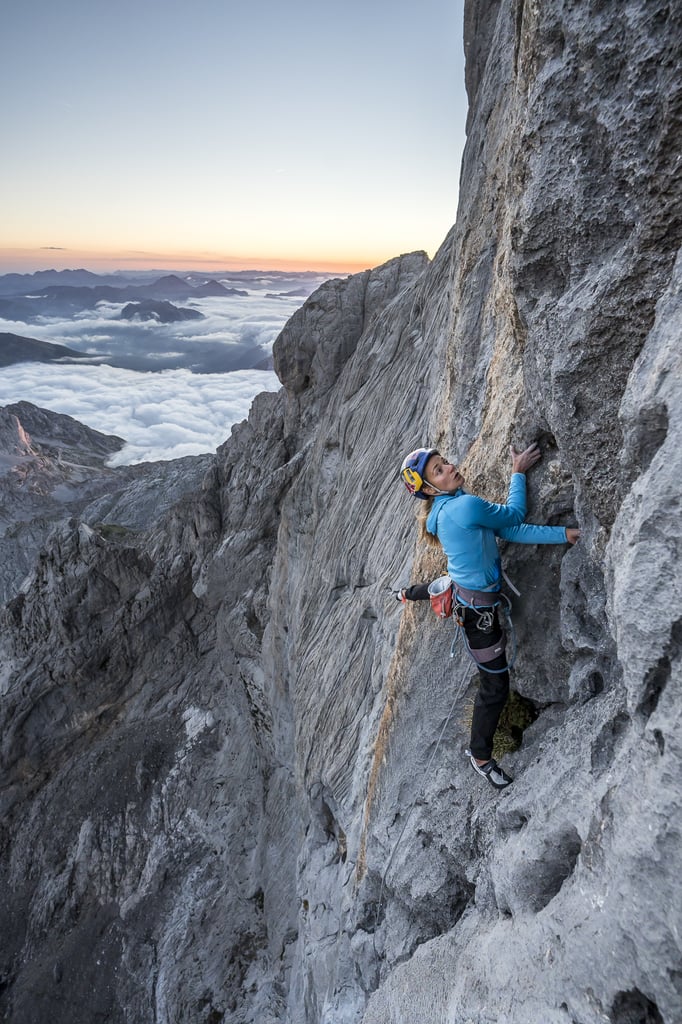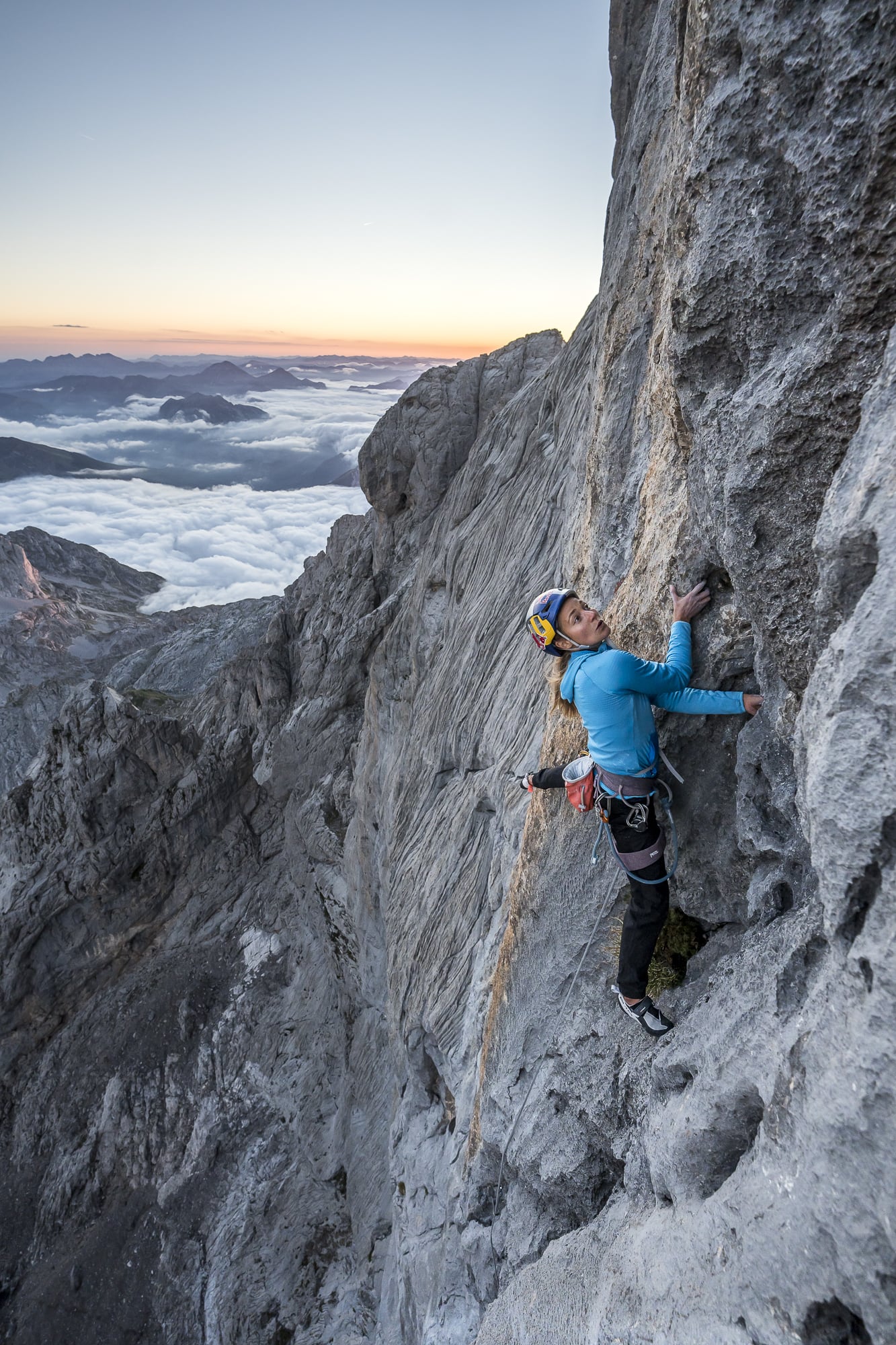 Professional rock climber Sasha DiGiulian was lying in a hospital bed when she learned that climbers Eneko and Iker Pou (known as the Pou brothers) had completed Rayu, an incredibly challenging route in the Picos de Europa mountain range in Spain, for the first time in history. It was September 2020, and DiGiulian was recovering from hip-reconstruction surgery — her second, an attempt to replace severely torn cartilage that was the result of hip dysplasia (misalignment of the bones in the hip joint) and had been exacerbated by years of climbing.
"I remember thinking, 'Wow, that route looks amazing,'" she tells POPSUGAR. Her competitive spirit gave her the urge to try it herself. But after undergoing such major surgery, "I don't know if I'll ever be able to climb that hard again."
"I want the achievements that we, as a female team, set out to achieve to be really impressive whether we're men or women."
So the dream drifted out of focus, and she dedicated her energy to rehabbing and getting back into training. But about a year later, DiGiulian was recovered, Rayu was still there, and now, she was ready to take on the challenge. With the right team, of course.
"It was really obvious to me that I wanted to construct an all-female team to go after it," DiGiulian tells POPSUGAR. She'd recently led her first all-women climbing expedition and wanted to re-create the distinct energy that she found came with a women-only team. DiGiulian recruited longtime friend and competitor Matilda Söderlund of Sweden to join the expedition, then met and hit it off with California native Brette Harrington, and she had her crew.
After delays due to extremely hot temperatures in Europe this summer, the climbers took to Northern Spain at the end of August and spent almost a month working on the wall. Then, on Sept. 12, just about two years after she first heard of Rayu, DiGiulian led her team to the top. That day, they became the first all-women team to climb a route of this caliber (a 5.14b big wall, to be exact) as well as the first all-women and second-ever ascent of Rayu.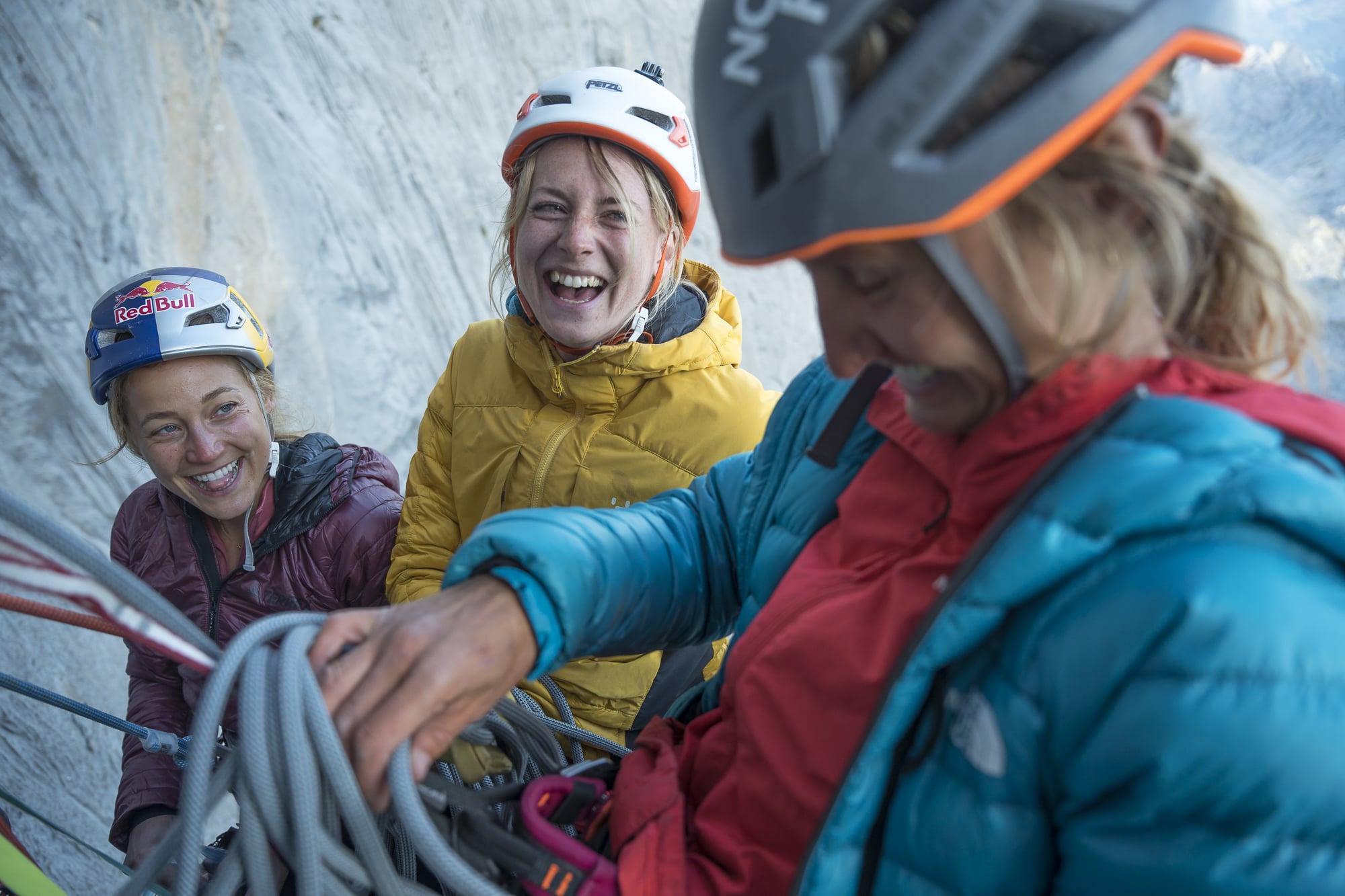 Why Being the First Matters to DiGiulian
"First ever" is a pretty big deal, no matter which sport you're talking about, but in DiGiulian's triumphant climbing career, the phrase dots her résumé like a participation trophy. She has climbed over 30 first-women ascents as well as eight significant first ascents. She's also snagged medal after medal at international climbing competitions and US nationals.
While being the first climber or first woman climber to scale a route "hasn't gotten old," DiGiulian says her pride in her achievements is about the ripple effect they create, not just the title. "I want the achievements that we, as a female team, set out to achieve to be really impressive whether we're men or women," she says. "Being the first woman when it's a really historic achievement is inspiring to me because I look at other female achievements — and when I see women do things, it opens my eyes to what's possible. Inspiration through representation really hits heavy for me. . . . When you see a team of women or another woman do something, it pushes the standard of what's possible for other women to think about, too."
Overcoming a Crisis of Confidence
The Rayu climb felt particularly significant for DiGiulian personally, and not only because she was leading the team after recovering from such a major surgery. She'd also lost a friend in a tragic climbing accident in Mexico in 2020, so the risks she was undertaking were very present in her mind. "There were a lot of bubbled-up feelings of A, not knowing if I was prepared enough for this goal, and then B, being really nervous about the risk that we would be mitigating," DiGiulian says.
To make matters worse, the night before the expedition, a man they'd hired to help with logistics tried to warn DiGiulian off the expedition. He told her "how dangerous the mountain was and how maybe the team should go and try another route because it would be a little bit more manageable for us, and how this route's never been repeated for a reason," she says. He even bet their hotel bartender that they'd need to be rescued by helicopter. His lack of confidence got in her head, and soon it was 3 a.m. the night before they were supposed to hike out to the wall, and she was overheating in her hotel room, having a "full-on panic attack," she says.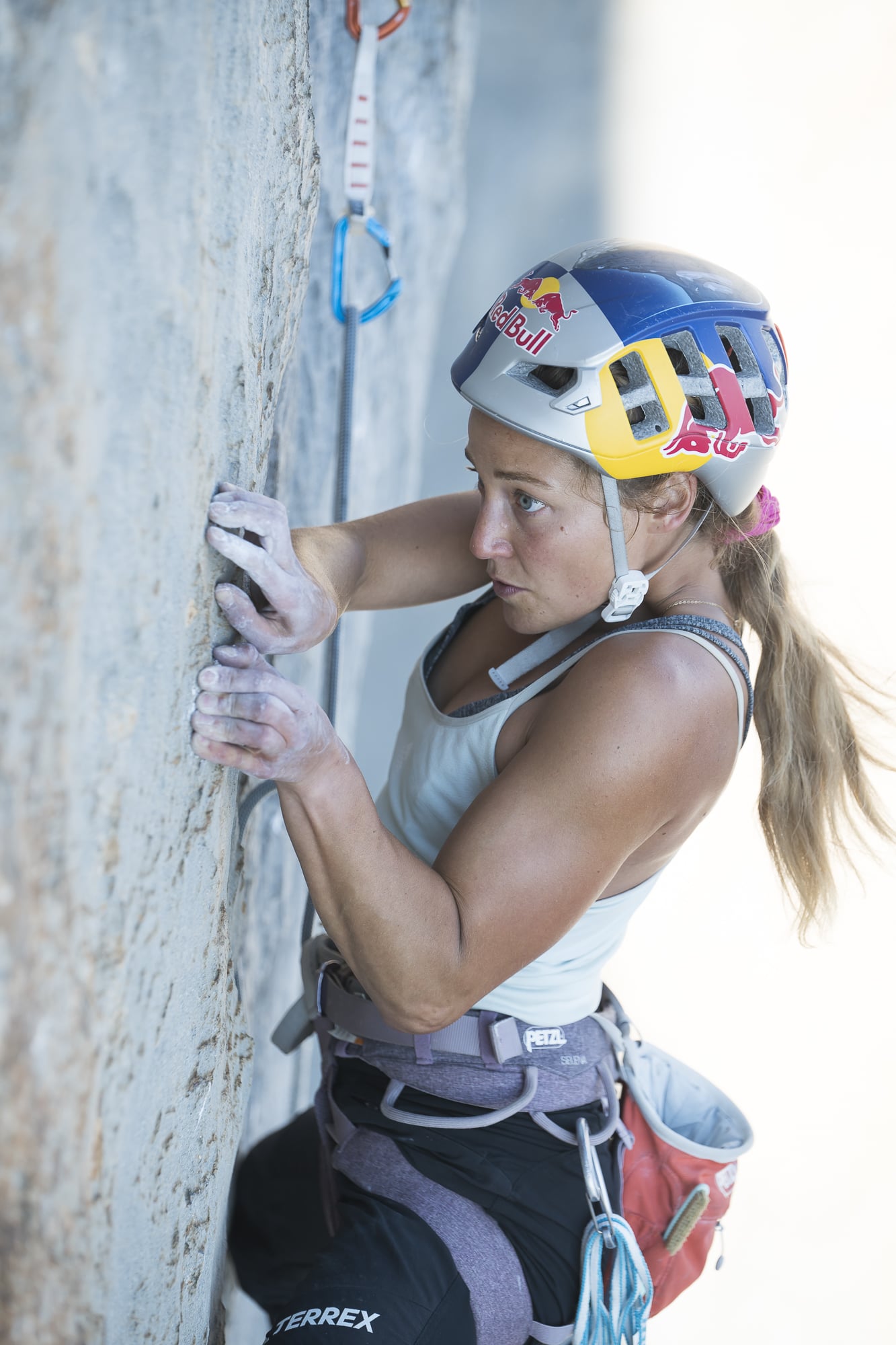 Pushing Past the Mental Hurdles — and Reaping the Rewards
When DiGiulian, Söderlund, and Harrington made it out to the wall, though, they found their groove. Despite dealing with inclement weather, including hail, thunderstorms, and even remnants of a hurricane, the expedition went off without a hitch.
When they finally completed the ascent, "it was unlike any other feeling," DiGiulian says. "I think part of the exhilaration that goes into big-wall climbing is you're fully dedicating yourself to achieving this mountain. When I've set really audacious goals that are just on the brink of not knowing whether it's possible or not, you spend all these weeks trying and failing and dealing with your fingertips bleeding and conditions and navigating weather patterns and just being absolutely exhausted. When we got to the summit, it was like . . . I've been climbing close to 24 years, and it's not common that you get that sense of absolute pride in yourself and your teammates and joy at reaching a summit."
"Those are the moments that make the most sense for why we train so hard and dedicate ourselves to these big goals," she says. "It's for that single moment of just total satisfaction and bliss that you get to feel when you actually realize that goal. So often when you're on an expedition, you're dealing with emotions and failure and fatigue that it's almost like everything's erased when you get that feeling on the summit."
"So often when you're on an expedition, you're dealing with emotions and failure and fatigue that it's almost like everything's erased when you get that feeling on the summit."
Why She Loves All-Women Teams
DiGiulian credits the dynamic that often exists in all-women teams for the successful ascent, describing the support, camaraderie, and even vulnerability the crew demonstrated. "I'm not against climbing with other men in any way, but I think I just get this really special experience by climbing with other women," she says. Yes, it's easier to talk about periods among women (and yes, they come up during month-long camping trips). But there's more to it than that, she says.
"Maybe it's in a lot of sports, but when there's a male present on climbing trips that I've done in the past, it's almost like some of that success that I achieve is attributed to a male being present — and it's a totally false assumption," DiGiulian says. "I did just as much work as my male counterpart, but somehow it's being attributed in some other way, maybe [that it's not] as groundbreaking or assumed that I did less work because the guy took on more of the work. So I just wanted to eliminate that."
What's Coming Next
DiGiulian is already planning her next few trips, some of which she hopes will be with her same Rayu team. But after a few difficult years — and as she nears her 30th birthday on Oct. 23, which is "not young and it's not old" in the climbing world, she says — DiGiulian is moving forward with an evolving perspective. After all, most professional athletes don't expect to get their hips replaced at 27.
"I feel like I have a lot more gratitude for my body and for nourishing my body and for understanding it better," she says. She had been dealing with hip pain for years before deciding, in 2020, to see what was going on and being diagnosed with hip dysplasia and cartilage tears. Now, she doesn't think she'd try to push through the pain for quite so long.
"I think when I was maybe 10 years [younger] and still trying to push my limits in the same way, it was like I didn't understand that a rest day could be beneficial," she says. "After having such significant surgeries and taking nine months off of climbing — which [would have seemed] absolutely absurd to me before, [as] I had never taken more than six weeks off of climbing before my surgeries — [I now] understand that if you listen to your body and practice other ways of training, like visualization and yoga and stretching and meditation, that it can be really beneficial for your performance. I think I'm just learning to appreciate what the human body's capable of."