Beauty Tips
I Tried TikTok's Kool-Aid Lip-Stain Hack: See Photos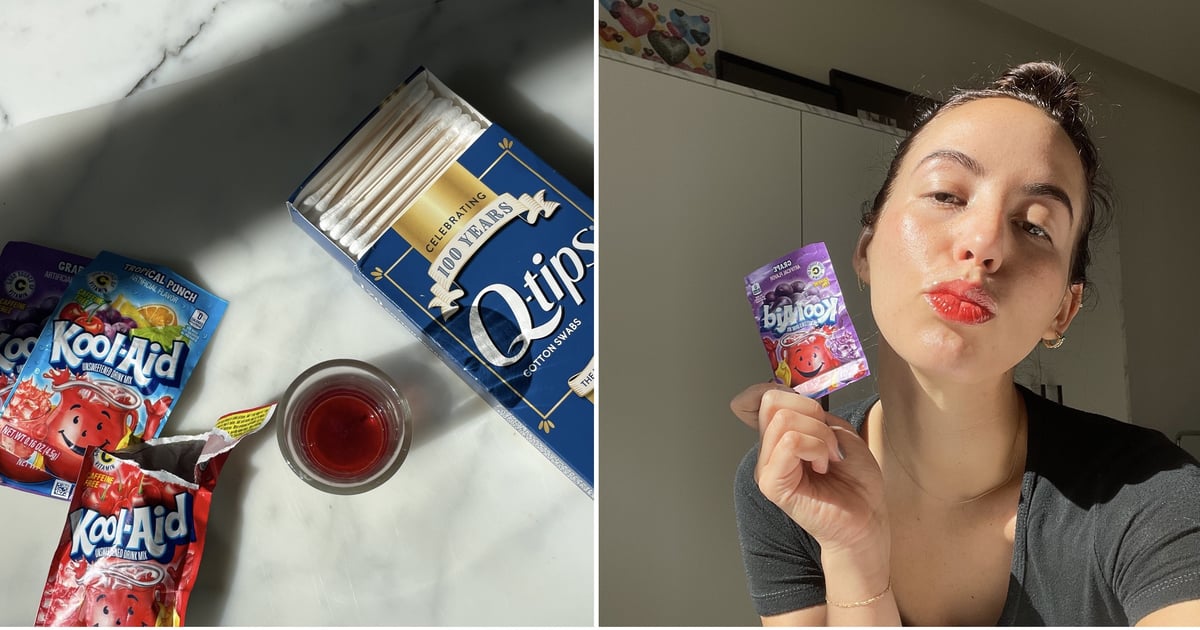 @sarah_wolak

Replying to @a.l.w.a.y.s.and.forever what do we think?? #foodcoloringlipstain

♬ original sound – Sarah????
Confession: I'm in my 30s, and I've never had Kool-Aid. My mom ran a strict household growing up, which meant I wasn't allowed to shave my legs, wear makeup, or consume sugary drinks and snacks. I didn't try Capri Sun until I was in college, and I waited an entire 32 years to purchase my very first packet of Kool-Aid — and I'm not even planning on consuming it. If you're wondering what the f*ck I could possibly be doing with the drink besides, well, actually drinking it, allow me to explain.
Beauty influencers on TikTok have been going wild over a new hack that uses Kool-Aid packets to achieve a bright, long-lasting lip color. The trick quickly went viral, and I genuinely couldn't scroll my feed without seeing at least one person testing it out. Thinking it could be my chance to finally try out the drink that consumed so many of my childhood thoughts and get a cool lip color at the same time, I immediately ran to the grocery store in search of the product.
Once I got home, I gathered my Kool-Aid packets, a shot glass, and a few Q-tips. After filling the shot glass with a tiny bit of water, it was time to decide which color I wanted to go for. Purple, aka grape, seemed a little too out there for me, so it was between the reds: tropical punch or cherry. Since I'm a big fan of cherry-flavored lip products, I ended up going with that.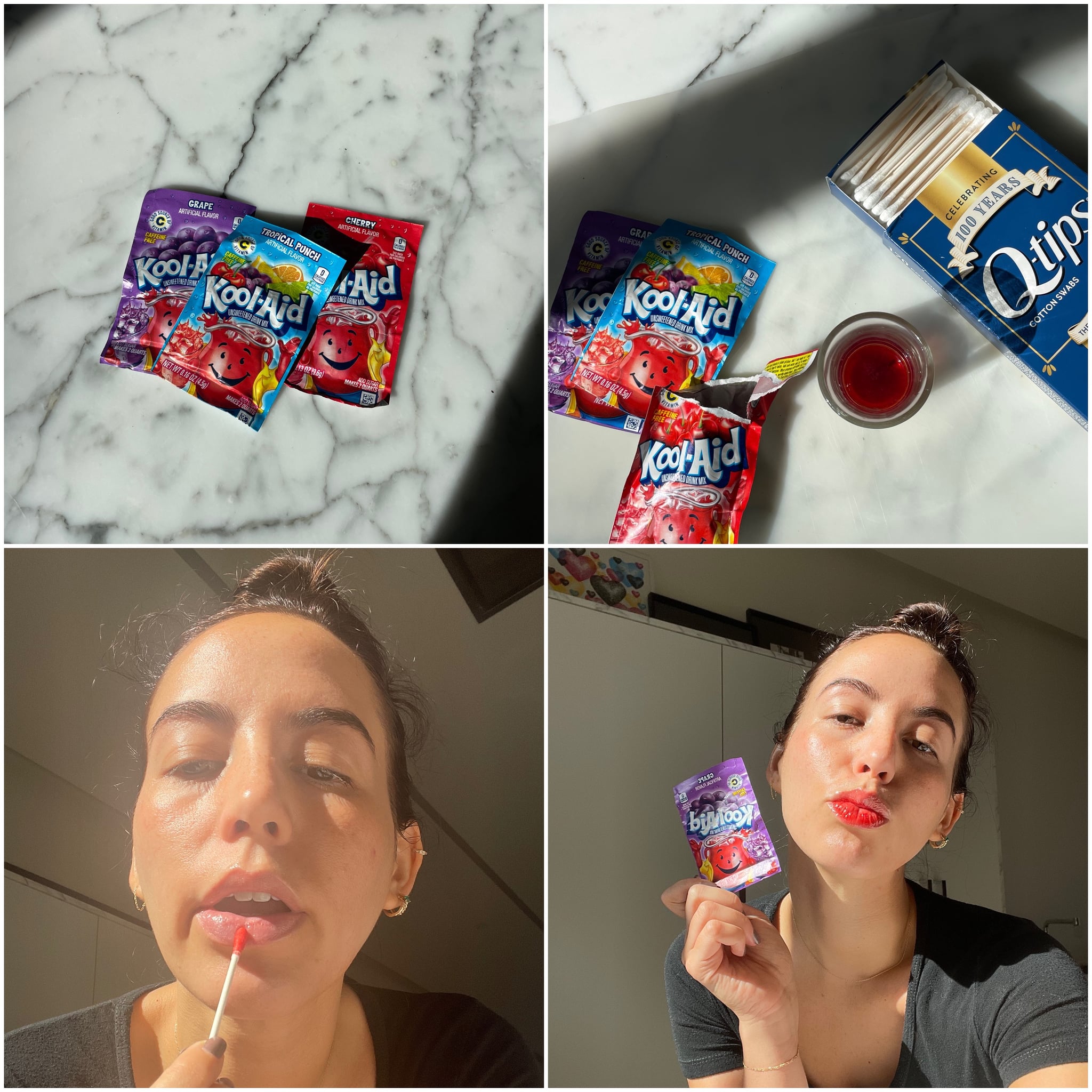 Image Source: POPSUGAR Photography / Renee Rodriguez
I added half of the Kool-Aid packet into my shot glass, then I mixed everything together. After letting it sit for a few minutes, I dipped my Q-tip into my concoction and started rubbing it across my lips. The first thing I noticed was that the color was sticking well to my bottom lip, but I was having a difficult time getting it to adhere to the top. It took a few swipes to get the color evened out.
I also noticed that it tasted good. Like, delicious. It was a little on the sour side, but I could taste the cherry flavor coming through. I let it sit for about 15 minutes, and the entire time, I was silently cursing my mom for depriving me of the mouthwatering goodness that was Kool-Aid. Once the 15 minutes were up, I took a damp paper towel and blotted everything before surveying the outcome.
The resulting color was a bright red, which looked similar to a lot of red lipsticks I'd tried in the past. I added a layer of the Rhode Peptide Lip Treatment ($16) to give me some glow, and the final look was a bold, vivid red that was sure to turn heads.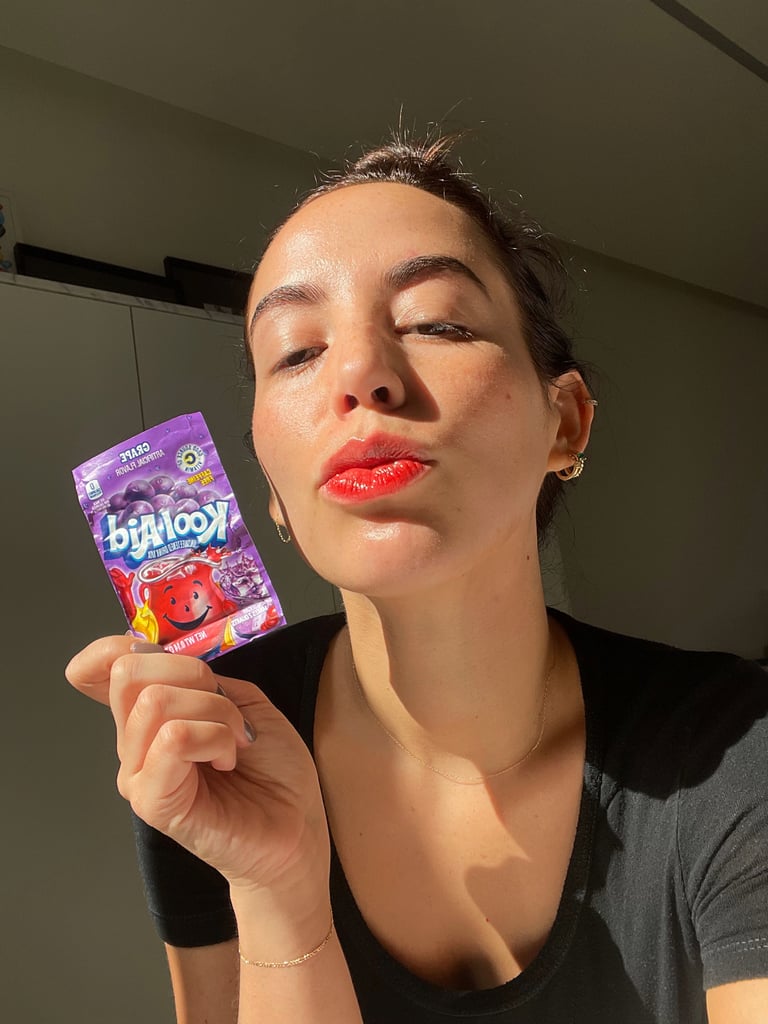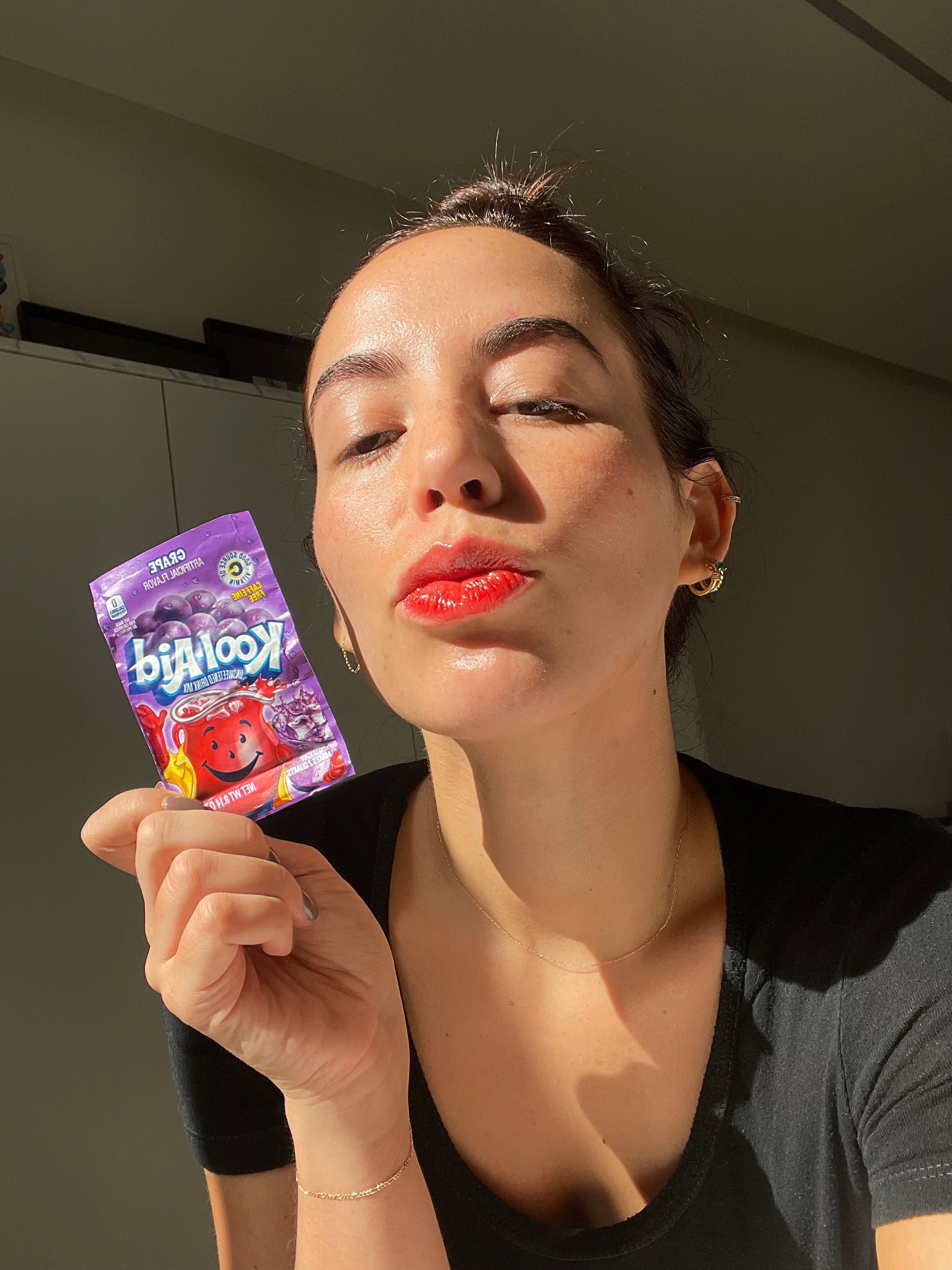 Image Source: POPSUGAR Photography / Renee Rodriguez
The color lasted the entire day, even through eating and drinking, but I did find that it became a bit streaky toward the six-hour mark. I have some discoloration in the middle of my lips from sun damage, and I found that the red pigment clung to that area. However, the only real downside I found was that when it came time to take off my new Kool-Aid lip, there really was no amount of scrubbing that would allow me to be lip-stain-free. After wiping my lips with micellar water what felt like 15,000 times, I was finally able to get the majority of the tint off.
Overall, I was impressed with the results of testing out this hack. I've still never officially tried Kool-Aid as a drink, but I can say that as a lip stain, it certainly works well. The process was a bit tedious for everyday use, but I'll probably choose to use this trick whenever I need a lip color that lasts all day without reapplication, like for a music festival. At just 70 cents for a pack of Kool-Aid and a resulting lip color that lasts all day, this is one of the more affordable TikTok hacks I've tried that actually works.