Beauty Tips
Beauty at Dior Fall/Winter 2023 Show for Paris Fashion Week
Not all eyeliner looks are worthy of a soundtrack, but Dior has one for you. Cue up Edith Piaf's Non Je Ne Regrette Rien, some songs of moody French chanteuse Juliette Gréco, and you'll be inspired to try an eyeliner look that's melancholic, strong, defiant, and a little bit punk. (Maybe Lana del Ray's Sad Girl would fit in here too).
At the Dior FW23 show, models wore black eyeliner and even more black eyeliner. It was blurrily smudged into the inner and outer corners of the eye and purposely exaggerated both above and below the lash line. "It's like a deconstructed combination between a smokey eye and eyeliner," Peter Philips, Creative and Image Director for Dior Beauty. Maybe a "smoliner" look, if you will. If you've never been able to fully master the gradation that comes with a flawless smoky eye or the perfection of a tight line, great news, because this look was neither of those things (there was also no contouring or highlight, so don't worry about those either).
Juxtaposed against the rich floral textiles, shine, and sculptural set that Portuguese artist Joana Vasconcelos created, this season's beauty look was meant to stand out. "We wanted to do a look where the girls don't disappear," Philips said. "The idea was not to have a gorgeous smokey eye." Or maybe you're thinking it's a little Wednesday Addams-core? "It's melancholic 60's, Saint Germain, and there's a little sadness but also strongness." The eyeliner (Dior Crayon Eyeliner Waterproof) was drawn and blended to go down a bit at the end of the eyes to create a moodier effect. For extra intensity, he used black eyeshadow (Dior 5 Couleurs Couture in Black Bow) and stamped additional color on it to make the look even blacker. No mascara ("It would look too sexy, almost, too sensual."), a nude lip, and softly brushed brows rounded out the look. For a last touch — models also degreased their T-zone, thanks to a bit of logomania. Philips showed off a book of sheets printed with "Dior," the brand's blotting papers, giving a sneak peek into an upcoming new launch. Since public blotting is having a moment, thanks to Rihanna, these will surely have their TikTok moment in the future on your "For You" page.
More From ELLE
To complete the full look, Guido Palau and his hair team then added low ponytails gathered at the nape of the neck, finished with thick black headbands with crinkled ribbons attached. For added gleam and fullness, he blew hair away from the face using Oribe Thickening Spray and Oribe Supershine Light Moisturizing Cream.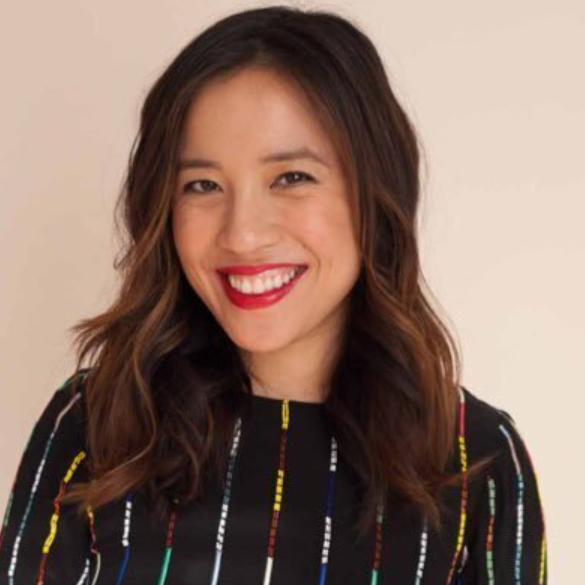 ELLE Beauty Director
Kathleen Hou is ELLE"s Beauty Director. Previously, she held the same title at New York Magazine's The Cut. She's appeared in publications such as New York, The New York Times Magazine, Vogue India, Forbes, and Allure. She was also a co-founder of Donate Beauty, a grassroots beauty donation project started during the COVID-19 crisis, which donated over 500,000 products to over 30,000 healthcare workers across 500+ hospitals.