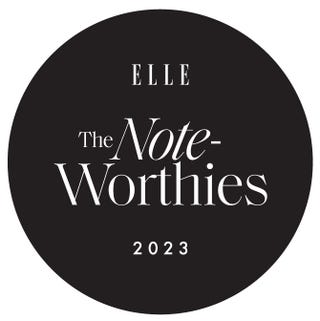 Fragrance is the first impression you quietly convey, used to express your ever-changing moods, contrasting personas, and cherished memories. Does the invigorating burst of punchy citrus instantly revive your soul? Or do the depths of damp woods and zingy spices awaken your senses? Welcome to ELLE Noteworthies, a definitive guide to the finest fragrances we've encountered this year, poised to accompany you as you create new scent memories.
---
Scent is a language, an invisible lexicon that introduces you to someone even in the absence of words. Like a sommelier describing a wine's flavor, translating a fragrance's nuances into words is as poetic as it is frustrating. A perusal of fragrances at a retailer or an endless scroll on a site is an overwhelming dump of meaningless terminology and descriptions to someone who simply wants to re-up the emptied vanilla-scent eau de parfum they were gifted on their birthday last year. An Eau de—what? Yes, the distinction between an EDP and eau de toilette affects the scent experience. And what the hell even is an OUD? Is olfactory where fragrances are made?
Fragrances are divided into groups based on the several elements that make up their scent composition (do you prefer fresh or musk scents?). In honor of our definitive list of the greatest perfumes of 2023, we polled cosmetic chemists and ELLE Noteworthies experts Ginger King and Esther Olu, as well as Roja Parfums master perfumer Roja Dove to breakdown the expansive world of fragrance terminology. Refer to this guide to help you find—and describe—your newest pickups.
---
Accord
Taking cues from music, an accord in fragrance is a blend of different ingredients morphed together to create a new, more complex scent.
Aromatic
Think of a trip to a spa and the heavenly aroma that greets you. Aromatic scents typically consist of herbaceous notes like mint, rosemary, sage, lavender, and other fresh plant-like ingredients that lean fresh and spicy.
Amber
Fragrances in the amber family smell comforting and warm with hints of spice and sweetness. Amber adds depth to a scent, thanks to sensual notes in the family, like tonka bean (spicy) and vanilla (sweet).
Base Notes
Of the three fragrance layers, the base is where you'll find the heartier, more robust notes. "After the initial freshness, a fragrance will then dry down into the base notes (woods, mosses, etc.), and these are the ingredients that are celebrated for their longevity and the ability to hold on to the skin," Dove explains. King says that the base notes are the "main personality of the fragrance," as the more potent the base, the longer the scent will linger.
What makes for a different experience between warmer weather and colder weather perfume notes?
Seasonal perfumes exist for a reason. You'll likely wear warmer, muskier scents in the fall or winter, and vibrant, sparkling scents in the spring and summer. "When the sun is out, so are we and with the sun comes heat. Citrus notes will bring welcome refreshment and will help you feel energized. In the autumn or winter, understandably, we move indoors, and this gives us an opportunity to enjoy the warmth of spices combined with woods or to seek the more sensual pleasures that soft vanilla and musk will give us," Dove notes.
Blind Buy
When you purchase a fragrance based on its scent description or per an influencer's recommendation, without smelling it in person.
Chypre
A complex family of earthy tones marked by a citrus opening (bergamot) and deeper woods at the base like oakmoss and patchouli.
Concentration
Concentration is what supports the longevity of a fragrance. Depending on how intense you want to smell, concentrations are broken into four categories, each defined by a certain percentage. The higher the concentration, the stronger the scent. Eau de Cologne is the lowest concentration and doesn't last too long; Eau de Toilette is moderate; Eau de Parfum is high; Extrait is the most potent.
Creamy
Creamy scents refer to formulas made of decadent notes like vanilla, cashmere, and coconut, with hints of musk.
Distillation
The process of extracting essential oils from plant materials.
Dry Down

After spritzing the fragrance on your skin, the dry down is the final phase that allows the base notes to fully form. During the dry-down phase is where you determine whether a scent smells good on you, as your skin's natural oils and chemistry intensify certain notes.
Eau de Parfum
Eau de Parfums are the most common type of fragrance in stores and have a higher concentration that allows for longer wear. "EDP is Eau De Parfum, which consists of 15 to 20 percent of the fragrance oil, so it's stronger and can last six to eight hours," King explains. Dove adds that EDPs give consumers "a good impression of a fragrance because they are far more refreshing (due to the increased top notes). Approximately 30 percent of an EDP's concentration is made from the base notes."
Eau de Toilette
On the other hand, EDTs have a lower concentration range of about five percent to 15 percent and typically don't last as long as an EDP or Extrait.
How does a formulator transcribe words into perfume?
"For personal care products, aside from the scientific and technical aspects, transcribing words and inspirations mostly comprises creativity," Olu shares. The creativity lies in a perfumers ability to paint an olfactory image from first spray to dry-down. "Perfume is like viewing a great piece of art. You must give in to it and let your emotions take over. Like art, the devil is in the details," Dove adds.
Extrait
An Extrait is the most intense fragrance type, containing about 15 to 45 percent.
Floral
Almost every perfume contains floral elements. Floral notes lend a sweet throw to most perfumes, especially commonly used florals like rose and jasmine.
Fresh
The fresh family emits an aroma that is typically associated with citrus, aquatic, and green ingredients. "Hesperidic ingredients make a creation smell fresh. These are located in the top of a fragrance, and include lemon, lime, bergamot, grapefruit, mandarin, and eucalyptus," Dove adds.
Gourmand
If you've ever smelled a fragrance you wanted to eat, it was likely from the gourmand family. In this set, notes like vanilla, chocolate, and caramel reign supreme.
Heart Notes
The middle level of the fragrance pyramid helps to shape the personality of the perfume. Where top notes are fleeting, the heart sticks around for a little longer and settles into the skin before the base notes take over.
Musk
"Musks add soft sensuality to a fragrance and are often used in the base note to make scents last longer. Musk smells warm, rich, and slightly sweet – it's complex and alluring," Rove explains.
Niche
Niche fragrances are usually custom-made or produced in smaller quantities, as opposed to the commercial or "designer" perfumes you find in department stores.
Noses
The title of the composer of a perfume.
Notes
The ingredients that make up a fragrance.
Olfactory
Anything relating to the sense of smell.
Oud
Oud or Oudh is an extremely potent oil extracted from the bark of wood "harvested from the heart of the knotted Aquilaria tree," Dove offers. Since the oil is super fragrant, it's commonly used alone or in perfumes as the base note.
Powdery
Reminiscent of baby powder, powdery notes are very soft, sweet, and romantic. Common notes found in this family are vanilla, iris, rose, violet, and musk.
Pulse Points
The areas all over your body where you spritz your perfume to extend its longevity. "Wear it on your wrists, elbows, and collarbone. Don't rub it in, just let the perfume unravel and work its magic on your individual canvas," Dove says.
How do you make your scent last longer?
Layering is the best way to make your scent stay throughout the day. "A body lotion or cream with the same fragrance as your perfume is a great way to make the smell last longer. Always apply your fragrance first and then lock it in with the lotion or cream afterwards. Not only does this increase the lasting quality but the alcohol in the fragrance doesn't break down the cream so the moisturizing factor is maximized," Dove advises.
Sillage
Sillage is the trail left behind by your fragrance. The stronger the scent, the more lasting impression it will have once you leave a room. Dove adds that sillage is also what creates scent memories. "Sit with someone and breathe in their fragrance, and they will give you one of the most beautiful gifts of all—the gift of memory. You may not have seen someone for years but with one breath of scent, memories can come flooding back," she notes.
Top Notes
The first impression you get from a fragrance is from the top notes. As the introductory notes, the top layer of a fragrance leans more bright and light, courtesy of citrus or fresh ingredients, and then evaporates.
Woody
An earthy aroma that smells like freshly cut wood or grassy. Notes like cedarwood and sandalwood are classified as woody.
Beauty Commerce Editor
Nerisha is the beauty commerce editor at ELLE.com, covering all things beauty (and fashion and music). She has a penchant for sneakers and nude lip glosses, and spends way too much time re-watching 90s sitcoms.