Beauty Tips
5 Secrets to Healthier Hair, Straight From a Celeb Stylist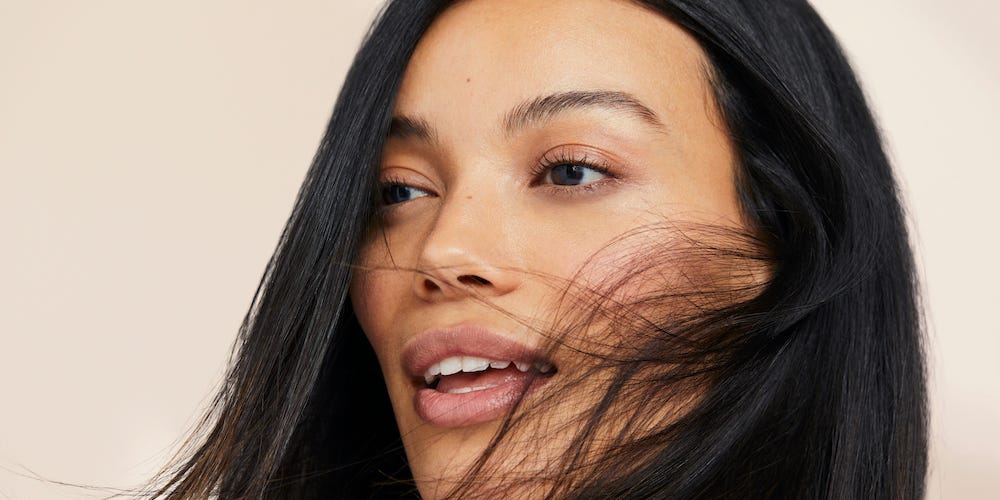 Pro hairstylist Bridget Brager's list of celebrity clients is as long as it is impressive, and if you follow her on social media, you know her wealth of knowledge is seemingly never-ending. In other words: When she's giving out hair secrets, we're all ears.
One major thing we appreciate about Brager as a stylist is that her approach to hair starts with a healthy scalp. It makes sense, then, that among her many bona fides is a partnership with Rodan + Fields. The skincare brand recently launched two derm-designed haircare lines, Volume+ Regimen and Smooth+ Regimen, with products formulated to get to the root of your hair concerns.
We chatted with Brager, who told us about her favorite ways to use the new products and let us in on the hair secrets she tells her celeb clients to help them achieve all-around healthier hair. Not only will her tips change the way you think about your hair routine, they may also give you newfound respect for your scalp.
1. Try double-cleansing (yes, for your hair).
"You've heard of this technique as part of your skincare regimen," says Brager. "Well, the same theory can apply to your scalp." The idea is that the first round of shampoo breaks down the top layer of dirt, oil, and build-up, and the second actually gets to the root, washing the scalp and ensuring hair is completely clean. If you don't thoroughly remove product buildup, it can affect hair health and growth, and, she says, "can lead to additional weight in your hair, which makes everything look flat and lifeless." The Rodan + Fields Volume+ line is designed to be gentle enough for this double-cleansing process. "It makes your hair squeaky clean without drying it out or stripping color, and helps balance your scalp's natural biome," says Brager. Follow with conditioner as usual.
2. Focus your blow dryer at your roots for volume.
Using excess heat on the hair can be damaging, especially on the ends. This is why it can make a difference—in both dry time and the health of your hair—to stick to the roots. Brager says that the technique also provides extra lift.
Here's what to do: "As you dry, I recommend flipping your head upside down or simply stretching the strands [in the opposite direction] at the root to encourage lift, body, and volume," says Brager. She adds, "This is a great way to wake up your second day blowout too."
3. Try a cold rinse.
One of the best secret weapons for smooth, frizz-free hair is not a product but a quick trick. "Rinsing your hair with cold water helps seal the cuticle and lay flyaways down, and as a result it makes the hair look smooth and shiny," says Brager. Sealing the cuticle also helps lock in moisture for more hydrated strands.
The smooth-hair secrets don't stop there. "Follow up your cold water rinse by using a microfiber towel, and always remember to pat your hair dry instead of rubbing it vigorously with a towel—that can cause the cuticles to expand making your hair look frizzy and dehydrated."
For an extra glossy finish, Brager recommends styling with the Rodan + Fields Defrizz+ Oil Treatment, which helps lock in hydration and provides heat protection.
4. Maintain distance when using dry shampoo.
One of the biggest mistakes people make when using dry shampoo? Spritzing it too close to the scalp. Not only will that leave behind a powdery appearance, it can also lead to bigger problems: "Spraying too close to your scalp can cause product buildup and [result in] a flat hairstyle," says the stylist.
Instead, pull back six inches when applying a product, like the Rodan + Fields Refresh+ Dry Shampoo, which features rice starch to absorb oil as well as chamomile extract to moisturize and soothe. The added distance will give you more even distribution for best results.
5. Try conditioning before you shampoo.
OK, we know we suggested following your double-cleanse with conditioner. But if you're struggling with extra-greasy hair, swapping the order in which you use your products may be your solution. If your hair is heavy, matted, or oily, "condition first and shampoo after to take extra weight away," says Brager, who recommends the Rodan + Fields Volume+ Conditioner which nourishes, repairs, prevents damage, and promotes fuller-looking hair. This technique—called reverse washing—is suitable for everyone, but tends to work best for oily and fine hair types.
Lindy Segal is a beauty writer and editor. In addition to regularly contributing to BAZAAR.COM, she also writes for Glamour, People, WhoWhatWear, and Fashionista, among other publications. She lives in New York City with her Chihuahua mix, Barney.